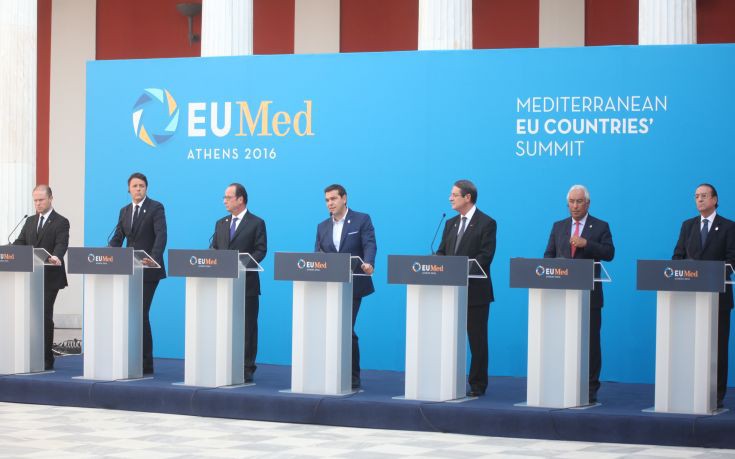 Athens, September 13, 2016/Independent Balkan News Agency
By Spiros Sideris
Leaving behind the Thessaloniki International Fair without losses, and with institutions in Athens for the assessment, the Prime Minister turns his attention to the most critical perhaps summit in the history of the EU in Bratislava on September 16.
Having convened the first Summit of Med Group Conference in Athens on September 9 with complete success, there is no doubt that he goes to the capital of Slovakia more prepared than ever.
The top three meetings that took place in Greece in recent days, the Conference on Security and Stability convened under Foreign Minister Nikos Kotzias, the Med Group and the meeting in Athens of Ministers for European Affairs Socialists are an undeniable success of Greece with a strong impact internationally and in particular in the context of a united Europe.
These facts, despite being withheld by the domestic media, they were recognized and received wide publicity in the international press, while the German newspaper «Die Welt» saw it as a threat to Chancellor Angela Merkel.
In Bratislava, begins the battle for the salvation or the disintegration of Europe and the convening of the Med Group Conference becomes more important given that all the previous time, in response to the refugee crisis and Brexit, there were many conferences of European countries.
And some of them, such as the Visegrad countries, landed a blow to the European Union, since they enhanced the policy of closed borders, nationalism and xenophobia.
In Zappeion, where the Conference took place and from the framework set by the Prime Minister Alexis Tsipras, it is absolutely clear that southern Europe wants to join forces against populism, xenophobia and racism for a common European policy to tackle the refugee problem. Something that was confirmed at the Rhodes Summit, by the European and Arab countries that participated.
At the same time he favors the path of growth, as opposed to the austerity policy, to address the top problems of poverty and unemployment, which is highlighted in the meeting of the Socialist Ministers for European Affairs conclusions statement.
The political position of Med Group and the actions of Greek diplomacy, are the opposite of the policies promoted by several European countries and/or are currently applied in the EU.
The Greek Government and the participants in the initiatives made it clear that a divided Europe is not in their intention nor is the creation of a lobby states that would turn on each others, but to restore and strengthen the unity and democracy within the EU
No one naturally expects it to be painless and without conflict, but the important thing is to serve the goal of a united and democratic EU. Certainly declarations oftentimes are not enough to become practice. In any case it is a road that is co-etched and the Greek government now, which takes such initiatives, with international interest, not sterile introverted isolationism.