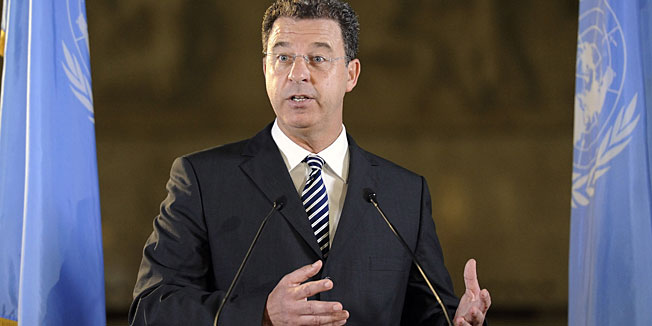 Sarajevo, October 6, 2015/ Independent Balkan News Agency
By Mladen Dragojlovic
Chief prosecutor for International criminal tribunal for the former Yugoslavia (ICTY), Serge Brammertz, said during his visit to BiH city Mostar that the situation in the BiH judiciary system, regarding trials for war crimes, is far from ideal.
During his meeting with chief prosecutor of the Herzegovina-Neretva canton, Mladen Jurisic, Brammertz said that the hardest cases of war crimes are not near their end and that the state Prosecution office must work harder on these cases. Two prosecutors also discussed the cases which are transferred from BiH Prosecution office on entity and cantonal level and about the help of ICTY to local institutions in war crimes processing.
Following the meeting, Brammertz said told the media that the result of these activities must be judicial institutions cooperating on all levels. He added that it is good that the number of concluded cases of war crimes at the BiH have increased.
– We have about nine million pages of documents from the former Yugoslavia in our data bases and a large number of them we to be handed to our colleagues in BiH, at entity and cantonal level, said Brammertz.
Jurisic told reporters that the number of finished cases is bigger with the help of the EU project which enabled the engagement of additional prosecutors. He added that easier cases are transferred to lower levels in the judicial system and that they are resolved quickly.
Brammertz expressed interest in "Vranica" factory war crimes case and Jurisic explained that the verdict in this case was canceled three times by a higher instance court and returned to the beginning without further instructions.
– We had about 60 witnesses in this case and the trial will be scheduled in future. The problem is that nobody wants to be a lawyer ex officio, said Jurisic.
During his visit to Mostar, Brammertz visited the famous Old Bridge which was destroyed during the war and reconstructed a few years ago. For the destruction of this cultural monument, ICTY accused General Slobodan Praljak. In first verdict, he was sentenced to 20 years in prison, but in this verdict Old Bridge was declared a legitimate military goal. But, the second instance verdict has still not been announced and it is expected that crime against heritage will be included in it.
Brammertz taught Mostar students at the Faculty of Law and announced he will be visiting again in a few weeks when he will meet representatives of associations of victims of war.