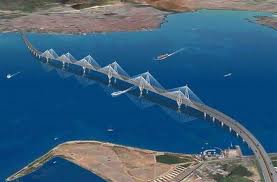 By Manolis Kostidis – Istanbul
The Turkish government is to hold a ceremony today marking foundations being laid for the third bridge constructed over Bosporus.
On the 560th anniversary of the Conquest, as Turkish press report, Prime Minister Recep Tayyip Erdogan and President Abdullah Gul will attend the ceremony laying foundations for the northern Bosporus Bridge.
The project is self – funded and together with road links is set to cost USD 4.5 billion. Turkish – Italian consortium IÇTAŞ-ASTALDI that undertook the project will work with Hyundai and S.Korea's SK on the technical aspect of the construction.
The bridge will be 1.408 meters long and stretch over two levels. The upper level will have eight traffic lanes, four in each direction. A railway line will be on the lower level.
Bosporus's third bridge will be complete in 2015. The first bridge was constructed by a British company and was inaugurated in 1973. The second bridge, inaugurated in 1988 was built by a Japanese construction firm.
PM Erdogan called the third bridge his "third love" and added that when he was mayor he had set out to build the first underwater tunnel in Bosporus (Marmaray) linking with the railway; a dual direction tunnel for vehicles; as well as the third bridge. "I will lay the foundations for the third bridge which is my third move, inaugurate Marmaray on 29th October and the other tunnel will be ready by 2015" the premier said.
The project will connect to the city's new airport – one of the largest in the world – which is expected to be ready in 2016 and will serve 150 million passengers.
The Turkish consortium undertaking the project will operate the airport for 25 years at a cost of EUR 22.5 billion. Construction will cost approximately USD 10 billion.