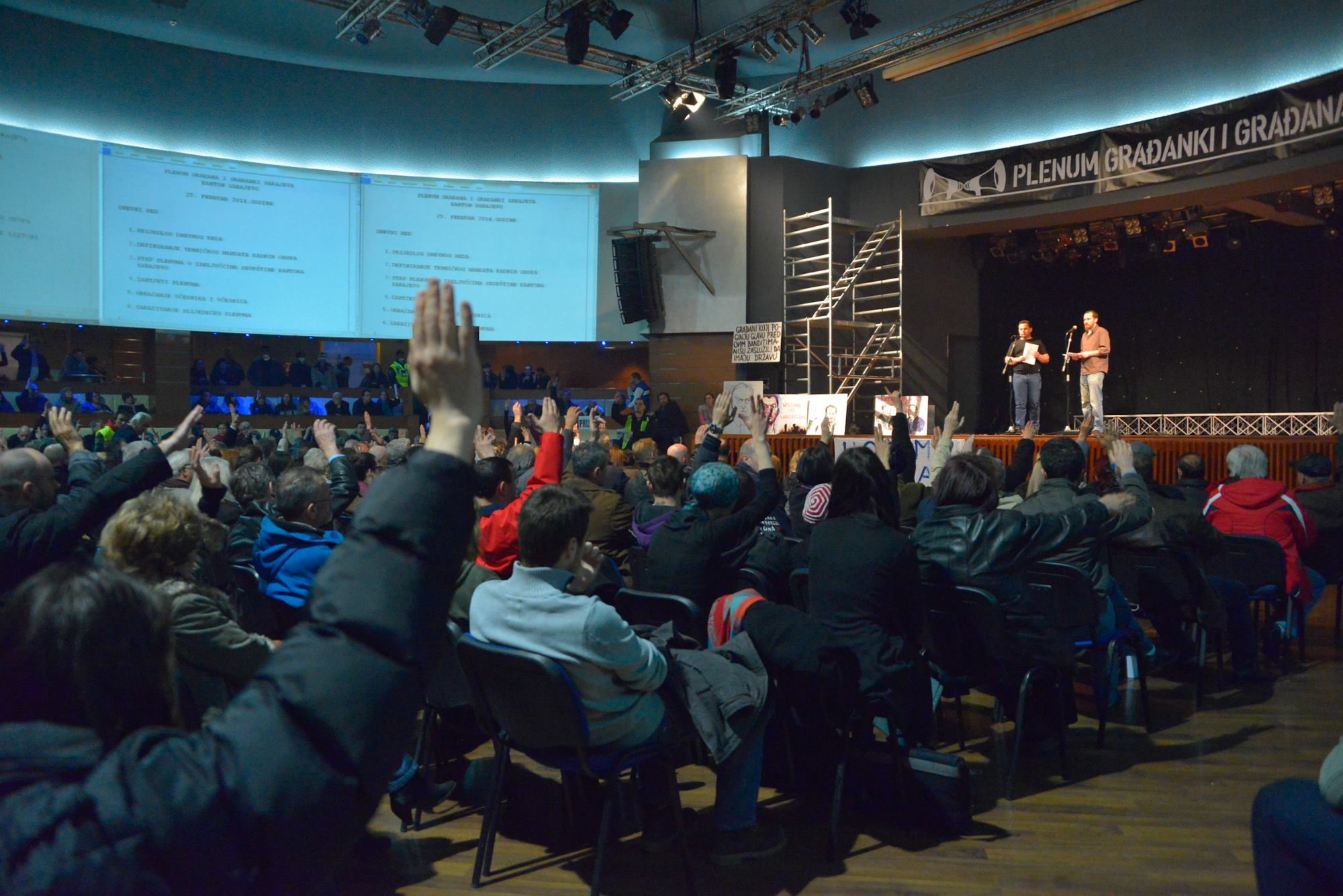 By Medina Malagic – Sarajevo
One week ago, the Plenum of the citizens of Sarajevo announced that the Plenum does not support any political party. For a country like Bosnia Herzegovina, which is undergoing a period of transition to the market economy, listening to constant platitudes regarding the importance of EU accession, and a political system whose fundamental premise enables a minority of the population steal from the majority, the continuing presence of the Plenums and the demands of the citizens represent a viable thorn to the comfort that has allowed a corrupt minority to thrive here for nearly two decades.
It is a radical concept in this country when a collective rises up and asserts their demands, where ethnic divisions play no part in the articulation of citizens demands. For the first time, citizens are reiterating the word privatization, since they have felt the full impact of this process on their livelihoods, and it can be seen as a self empowerment tool that raises consciousness, followed by collective action. This is most visible in Tuzla, the city where the protests began. Tuzla is an industrial town, and five factories called Dita, Polihem, Poliolhem, GUMARA and Konjuh, after undergoing privatization, led workers of these factories to protest. After years of trying to find a solution to their problems, the realization that the political process would not help them has finally spurred action. After the first step was taken, came citizens' assemblies that have since their inception become more organized.
Based on citizen demands, the government of Zenica Doboj Canton has reduced salaries and other personal benefits and controls on spending. The Plenum of Tuzla citizens will hold a discussion on the proposal of the composition of the new Tuzla government. However, in Sarajevo more obstacles have been put in the way, since the Sarajevo Cantonal Assembly has still not accepted the demands that were presented to them by the Sarajevo Plenum.
Whether the Plenums have the potential to be sustainable in Bosnia and Herzegovina's current political setup is beside the point. It should be highlighted that it is being used as a tool of empowerment for citizens, which in itself paves the way for future movements, since it has made citizens realize the extent of their power to transform.
Despite all of these continuing demands and incremental changes, it is still too early to tell whether the Bosnian plenums represent a true challenge to an entrenched social and political order that has the potential to pave the way for a genuine transformation of BH society. The Plenums throughout the country are still in their incipient stage, and time will tell whether the Plenums have the power to change the political and social paradigm that has dominated Bosnia and Herzegovina for nearly two decades.