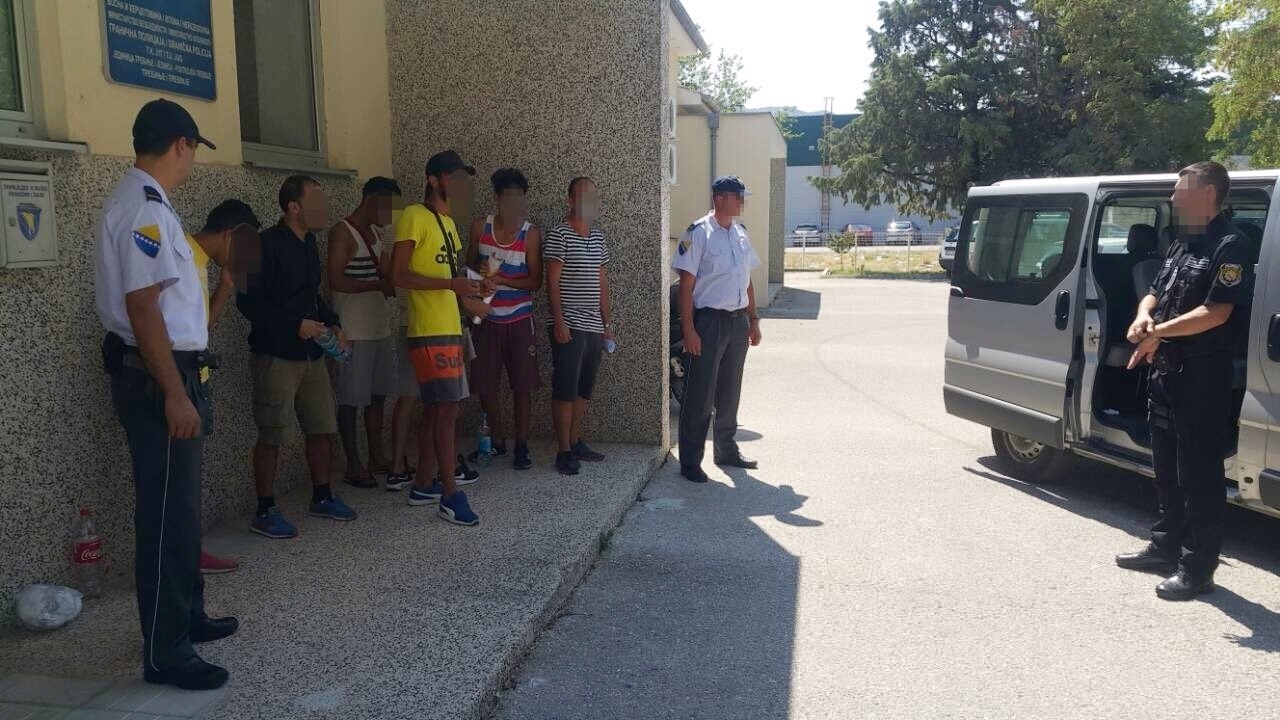 BiH Border Police (BiH BP) Unit Trebinje detected on Friday six foreigners who illegally crossed the state border in the area of Bileća, South East BiH.
As it was announced from BiH BP, citizens of Cuba and citizen of Algeria were prosecuted for minor offence and were handed over to officers of BiH Service for Foreigners Affairs, for further procedure. This was just one more in the line of more often similar cases with a larger number of illegal migrants who are trying to reach West European countries. Since routes through Serbia, Croatia and Hungary have been closed for several months now, it was expected that foreign citizens will try to find a new path toward their final destination. That path, as it seems, leads over BiH.
The fact is that just in period from August 1 up to September 1 more than 65 illegal migrants were found on the BiH territory and were subsequently handed over to officers of BiH Service for Foreigners Affairs. Most of them are citizens of Syria and Afghanistan, but they also came from Algeria, Turkey and other destinations with the same wish, to travel over BiH to other countries. It is interesting that just few of them stated that they want to stay in BiH, but probably they were just trying to avoid extradition.
A few days ago, BiH BP Director, Zoran Galic, on the meeting with representatives of other relevant agencies, said that operational information, data and reports of EUROPOL, IOM, FRONTEX and other relevant international authorities indicate that BiH is currently not exposed to mass migratory pressure.
"However, the current situation in the regional countries, in particular in the Republic of Serbia and Macedonia, where a large number of migrants have been staying for a long time, indicates to possible activities of migrants and searches for alternative routes for movement towards the EU countries, which may include transit over the BiH territory. Cases registered in 2017 indicate that migrants from high migration risk countries, in individual cases and in smaller groups, attempt to use the BiH territory as transit area on their way to the EU countries", Galic stated.
He emphasized that, in the course of this year, officers of BP BiH detected 311 persons in illegal crossing of the state border.
According to press release from BiH BP, the increased number of illegal migrants in the area of Eastern Herzegovina was the reason for this meeting. In 2017, said BiH BP, there were 88 nationals of high migration risk countries detected in illegal crossing, or attempted illegal crossing, in the responsibility zone of Border Police Unit Trebinje, of which only in August, 49 persons were detected.
It is important, as Galic said, that BiH BP created local and regional plans, in a timely manner, in case of a mass inflow of illegal migrants to the BiH border. Moreover, a framework action plan of BP BiH was made at the central level, foreseeing redistribution of human potentials and material and technical resources to the parts of the state border where necessary, in accordance with the capabilities of this police agency.
According to BiH Service for Foreigners Affairs in the first half of 2017, the number of illegal migrants in BiH increased by almost 300 percent compared to the same period last year. On the other hand, the increase in the entry and stay of foreigners from the countries of visa-free and visa regime, as a result of the increased interest of foreigners for visiting and staying in BiH, is also significant.
BiH Minister of Security, Dragan Mektic, said recently that Eastern Herzegovina is not a new route for migrants, but rather an  old route that has been activated. He added that EU and Turkey, with the agreement on migrant crisis, stopped the arrival of new migrants but the problem is about 10 000 of them who is still in Serbia and FYRO Macedonia. They, as Mektic said, will try to reach EU at any route, including BiH, but the state institutions are prepared for such a scenario./IBNA