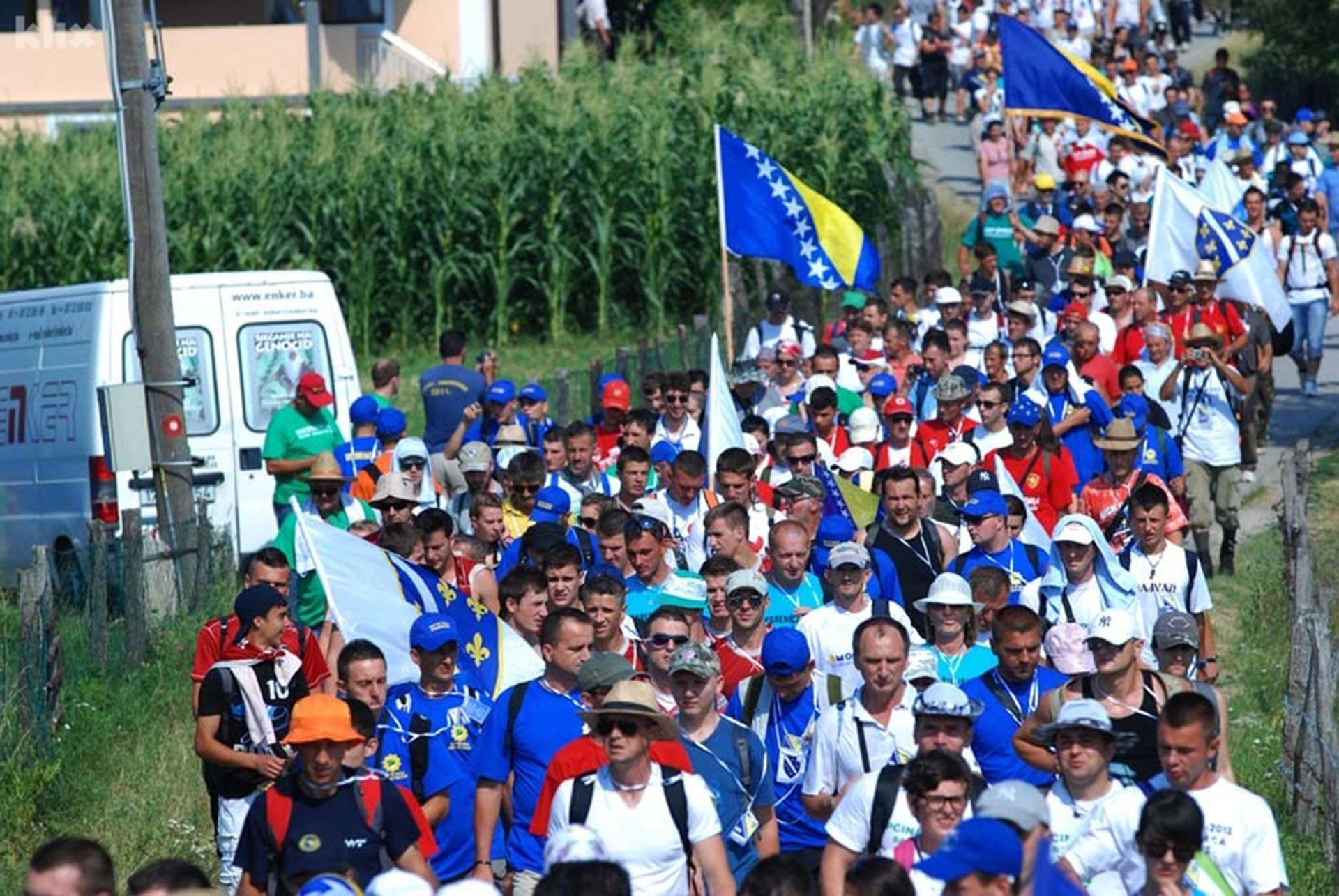 Not all of them come from former-Yugoslavia, not all of them were aware of the war that raged in that country for years between its peoples.
However, all of them, thousands of them are becoming one voice, one body, one fist for the 13th time, this year, in order to remember and commemorate those who were massacred in Bosnia and Herzegovina's Srebrenica, 23 years ago, by being part of a three-day peach march, that began on Sunday (July 8) morning.
The march people from around the globe will participate in is called Mars Mira, which means Peace March in English and the 100 kilometres they will cover from Tuzla, their meeting point, to cemetery in Potocari, a village in eastern Bosnia-Herzegovina, just northwest of Srebrenica town are known under the name "Death Road".
This macabre route is the same "forest path that was used by Bosniaks when they were fleeing the Srebrenica genocide", Anadolu news agency reports.
The walk is expected to conclude at a cemetery in Potocari, where a funeral prayer and burial ceremony will be held for 35 genocide victims.
Walkers will travel about 35 kilometres per day "and will be spending the nights at designated wooded areas.
During the long walk, they will be also given details about the genocide and told of the memories of survivors who took the so-called 'Death Road'."
The genocide
Srebrenica has been a black painting, or the background of some of the worst atrocities that have been recorder in the Bosnian War.
According to accounts and evidence, in July 1995, 8,000 (or more) Muslim Bosniaks, mainly men and boys, in and around the town of Srebrenica were massacred by units of the Bosnian Serb Army of Republika Srpska (VRS) under the command of Ratko Mladić, in horrific historical events also known and identified as the Srebrenica genocide.
The Scorpions, a paramilitary unit from Serbia, who had been part of the Serbian Interior Ministry until 1991, also participated in the mass killings.
In April 1993 the United Nations (UN) had declared the besieged enclave of Srebrenica—in the Drina Valley of northeastern Bosnia—a "safe area" under UN protection.
However, in July 1995, UNPROFOR's 370 Dutchbat soldiers in Srebrenica failed to prevent the town's capture by the VRS—and the subsequent massacre…. / IBNA
Main Photo: Moment from a past Mars Mira