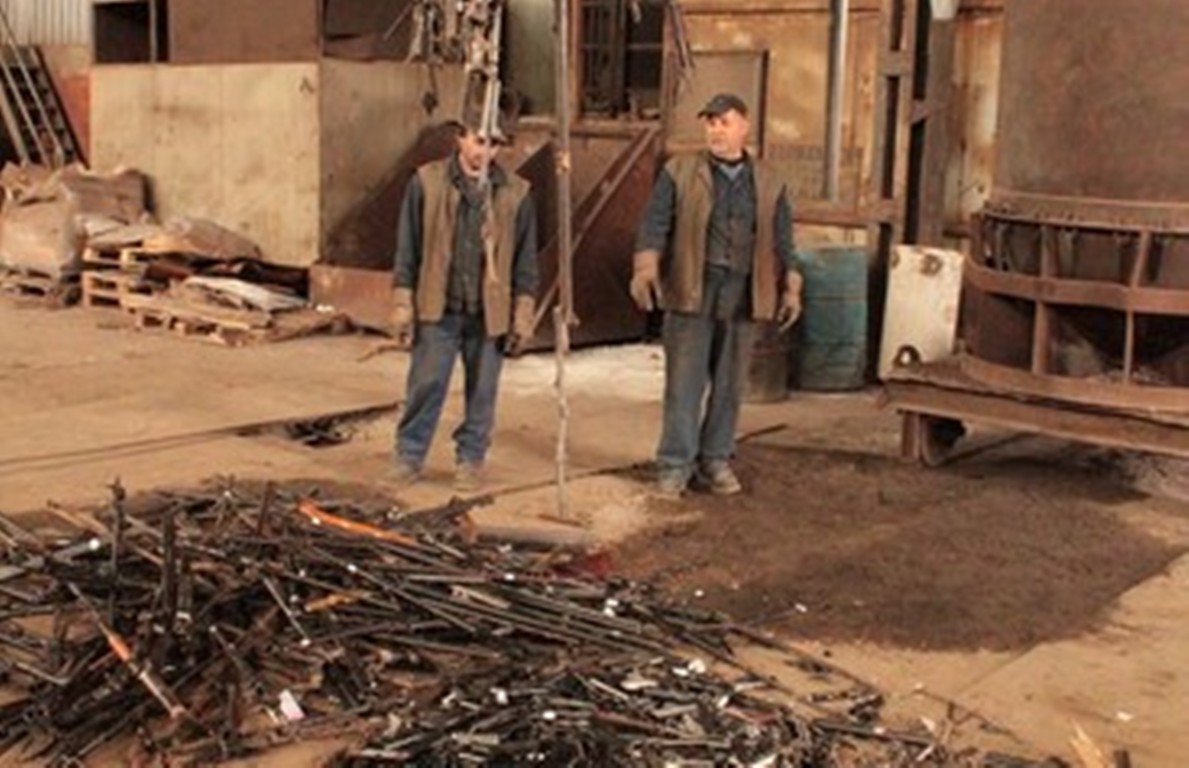 The BiH authorities recently destroyed a total of 2 316 pieces of small arms and light weapons (SALW), along with 3 344 of their parts and components, but it is just a part of the "deadly heritage" that has been left in the state after the war which ended more than two decades ago.
The destruction of the weapons took place at the Jelsingrad smelter in Banja Luka.
"More precisely, this activity funded by the European Union and supported by UNDP, SEESAC and UNDP in BiH, enabled the destruction of 996 long and 1,320 short barrels", announced EU Mission to BiH.
The destroyed firearms and their components have been confiscated by police agencies in BiH as part of their law enforcement activities. The destruction was organized by four police agencies in cooperation with the SALW Coordination Board of BiH.
"With funding from the EU, SEESAC will implement a series of region-wide activities contributing to non-proliferation and control of SALW in the period 2017 – 2019 through EU Council decisions. – One of the ways to diminish the risk of SALW proliferation is by reducing the significant stockpiles of weapons and their ammunition throughout South East Europe (SEE). With this in mind, supporting the authorities in region to dispose of their surplus, confiscated SALW and their ammunition is a key component of the SEESAC project", said EU in a press release, adding that, since 2002, SEESAC assisted SEE to rid itself of over 300 000 pieces of small arms.
A large number of rifles, hand guns, grenades and other weapon left in BiH after the war and nobody can even estimate how large this problem is. In several operations, police agencies in BiH gave amnesty to those who voluntarily surrender weapons left over from the war. Additionally, these agencies seized thousands of pieces of various weapons in police operations. A lot of these weapons ended up in West Europe, where it was used for terrorist attacks and criminal acts.
But the weapons do not only pose a threat to BiH citizens, a threat they face on a daily basis. Perhaps an even bigger problem are the landmines that continue to kill people in the entire country. The problem of landmines is not just their number, then also the fact that nobody has precise maps with landmines locations. First of all, these maps were not made for the majority of the minefields and the persons who placed them are not alive any more. The second problem is that many minefields were moved during the devastating floods, three years ago and now it is uncertain that one day all of them will be cleaned. According to BiH Mine Action Centre, in the post war period in BiH there were 1 752 casualties of which 613 were fatal. Out of the total number of victims, 184 victims were women or 10%, and 249 victims were children, or 14%. During the implementation of humanitarian demining in the state there were 127 demining casualties, out of which 51 were fatal. In 2016 there were 12 casualties, of which 6 were fatal. In 2017 one person was killed in a mine accident.
"Since the beginning of mine action implementation in BiH in 1996 until the end of last year,  3 109 km2 of suspected hazardous area had been cleared and returned to use to the final beneficiaries, or 74% of the initially estimated area. In humanitarian demining operations 64 493 anti-personnel mines, 8 444 anti-tank mines and 56 192 pieces of ERW, were found and destroyed", announced BHMAC.
All this means that, along with political problems and permanent recall of war time, BiH faces a problem with its "deadly heritage" which threatens citizens more than any dispute among politicians./IBNA