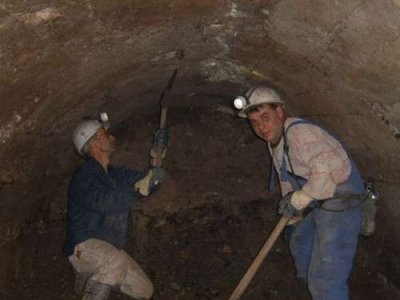 By Medina Malagić – Sarajevo
More than one hundred coal miners have gone on strike and are refusing to leave the coal mine Đurđevik in northeasern B&H. They spent the entire night last night inside the coal mine at a depth of more than 100 meters.
They have gone on strike in order to demand higher wages and the resignation of management, and are complaining that the discrepancy between their salaries and that of management is too high.
Since last night, they have been calling for the resignation of the current management of this coal mine for its poor performance. They are also calling for the repeal of the decision on the appointment of Asim Aljić as Secretary of the coal mine company. Until now, Aljić has worked outside of the mine, and the striking coal workers have insisted that Aljić has been employed in the coal mine depsite the fact that the decision on the admission of employees in immediate production has not been respected.
At a meeting that took place on 10 May in the FB&H government headquarters, an agreement was reached for new workplace rules and personal increase, which would have led to an increase in salaries. However, this agreement was not adhered to and has led to disatisfaction among coal mine employees and resulted in a strike that is still going on with no sign of abating.
Last night, the coal miners were offered three of their four requests, but they rejected all of them.
In addition to the offer to suspend its earlier decision on the appointment of Asim Aljić, to introduce regulations on wages and salaries and an interim solution to define wages, another offer was for Elektroprivreda B&H to consider requests for hiring workers in production. However, this was rejected by the coal mine workers because they demand to have shifts.
The Chairman of the Union of Coal Miners in the FBiH Sinan Husić said that the situation is becoming more serious, and that he hopes a solution would be reached soon.
The Director of the mine Zijad Rahimić has been attempting to convince coal mine workers inside the mine to leave so that their safety could be ensured, but to no avail.