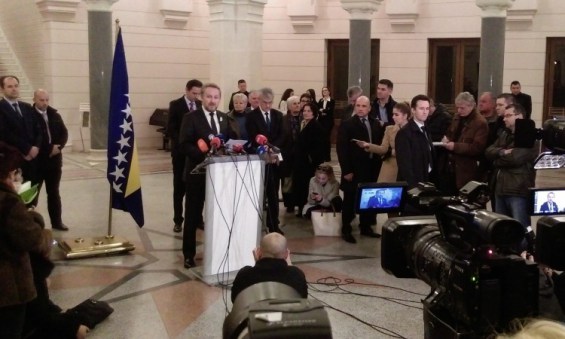 Near one hundred Bosniak politicians, NGO leaders and religious officials gathered in Sarajevo City Hall to reach to a final decision on the submission of initiative for review of lawsuit against Serbia for genocide.
Member of BiH Presidency, Bakir Izetbegovic, confirmed to media that it is the decision of all participants of the meeting.
The deadline for this process is February 26 but Bosniak leaders decided to wait until the last moment. Also, it is not clear which "new evidence" they discovered as the basis for the initiative. Several international experts, ambassadors and officials warned Bakir Izetbegovic on the International Court of Justice rule that the revision of the lawsuit must be initiated in a period no longer than six months since new evidence were discovered. It is near to impossible that Bosniak institutions have found this evidence in the last six months and therefore the initiative might end before it actually start.
Few Croat politicians are invited to meeting in City Hall but there was no invitations for Serbs from Republic of Srpska institutions who will represent the opposite opinion. According to Bosniak institutions and legal experts explanation, Izetbegovic is authorised to submit the initiative to ICJ, although it is in the name of BiH as a state. Serb and Croat members of BiH Presidency, Mladen Ivanic and Dragan Covic, are against the revision, demanding the return of this issue to the BiH institutions.
Few participants decided to speak to the media before the beginning of the meeting but the general opinion was that Izetbegovic, on the demand of several NVOs, already decided to submit the initiative next week.
" think that Izetbegovic has already made up his mind on this issue but with this meeting he just wants to share the responsibility with institutions and experts", said leader of Democratic Front, Zeljko Komsic.
President of Foundation "Justice for BiH", Fadila Memisevic, said to media that it is certain that the initiative will be submitted and that there is no reason against that. This Foundation financed the first process against Serbia for genocide in BiH on ICJ, but they weren't satisfied with the verdict. After ICJ published the verdict, the Foundation continued to work on search for new evidences which will enable the review of the lawsuit.
The outcome of the meeting was not to important because this issue has already made irreversible damage to relations between nations in BiH and the region. This was the reason for the cancellation of Serbian president, Tomislav Nikolic, visit to Sarajevo, which had been scheduled a few months ago.
However, there is no united opinion among Serbs as to how RS institutions and representatives in BiH joint institutions will respond to the initiative. The ruling coalition in RS thinks that the right answer would be the withdrawal of its representatives from joint institutions, but the main opposition RS party SDS is against that. In the following period BiH politicians will face tough challenges to decide how to build the future of the country and its citizens./IBNA