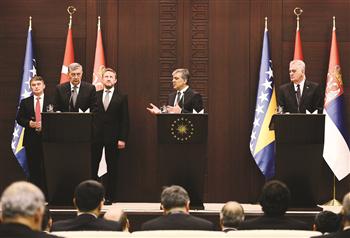 Bosnia-Herzegovina, Serbia and Turkey reaffirmed the "significance of building a better future for new generations aiming to overcome the existing prejudices and avert hate speech," in a final joint declaration at the third meeting of the Trilateral Balkans Summit.
Leaders of Bosnia-Herzegovina and Serbia met yesterday under the auspices of Turkish President Abdullah Gül.
The three countries pledged to support each other in their candidacies for international organizations, according to the declaration, as well as to cooperate against extremism and fight against organized crime in order to maintain a secure environment in the region.