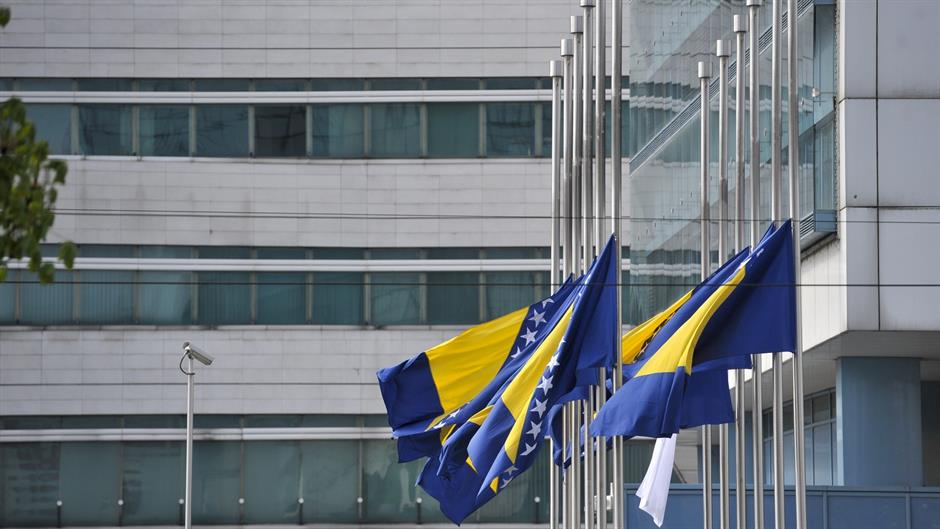 Banka Luka, April 29, 2015/ Independent Balkan News Agency
By Mladen Dragojlovic
Flags in all of BiH are waving half mast today, Wednesday, since governments of Republic of Srpska, Federation BiH and Brcko District proclaimed this day as a day of mourning for the death of police officer Dragan Djuric, who was killed in a terrorist attack two days ago in Zvornik.
Djuric was buried today in the village of Karakaj, near Zvornik. He was on duty in front of the police station in Zvornik when Nerdin Ibric, a 24-year old radical Islamist arrived with his car and, after several seconds, opened fire with a shotgun. Djuric was killed and two other police officers were injured before other police officers killed the attacker.
Djuric was buried with highest police honour and funeral was attended by RS president, Milorad Dodik, and interior minister, Dragan Lukac. Several hours before the funeral they were in Belgrade to meet the highest Serbian officials and discussed security situation in the region. Participants agreed that RS and Serbia must take care about the stability in the region, and prevent, in a coordinated manner, the spillover of the dangerous occurrence, like terrorism, from the territory of one country over to the territory of the other.
Dodik said that RS would initiate the process of developing a new strategy on security structures, as it had proved that the existing security structures, whose establishment had been based on taking away RS competences, were not efficient enough.
"The fight against terrorism is RS priority, but it has to be the priority in the rest of BiH, too. There is not enough will within the Bosniak political elite to confront this problem", Dodik said.
Serbian president, Tomislav Nikolic, said after meeting that cooperation was necessary in order to prevent somebody who was a part of terrorism network to repeat the act that had taken place in Zvornik. He said that the Balkans are a very sensitive spot, and that the fact that new wounds have reopened in BiH, 20 years after the Dayton Peace Agreement, indicated that the international community in BiH has not managed to constitute certain things that would function, and therefore it bore a great deal of responsibility for the situation.
"All competent institutions and individuals in Republika Srpska and Serbia will do all in their power to provide security, and prevent the danger from spilling over, so that our citizens do not fear for the security of their children", Nikolic said.
He added that all capacities would be directed towards preventing the situation from happening again. Serbian PM, Aleksandar Vucic, and Serbian Interior minister, Nebojsa Stefanovic, also participated on the meeting.
photo: Anadolu