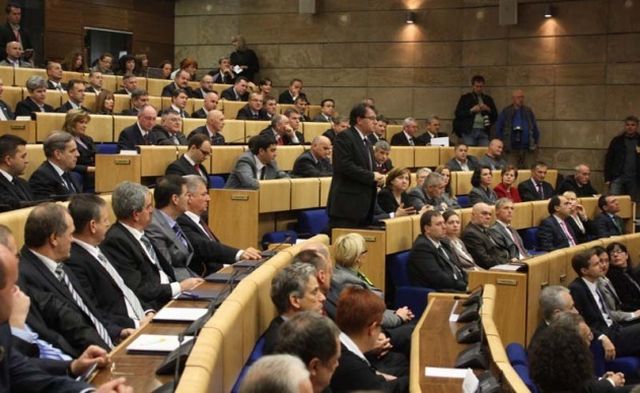 Sarajevo, June 5, 2015/ Independent Balkan News Agency
By Mladen Dragojlovic
The ruling coalition in Federation BiH fell apart Thursday night, creating new problems for the citizens in this part of BiH, but also for the whole state.
The coalition, which was established by Croatian democratic union (HDZ BiH), Party of democratic action (SDA) and Democratic Front (DF), made up the F BiH Government, but after Thursday night, the government has no support from its partners. In fact, this government was unable to survive even for 100 days.
The problem occurred because SDA and the HDZ outvoted the DF on a session and adopted disputable acts by which the dismissals and appointments in the public enterprises are exempted from the line ministries and are transferred to the government. This question was important for DF, which was demanding that its members take management posts in public enterprises. DF President, Zeljko Komsic, told the media that F BiH PM, Fadil Novalic, is no longer supported by the DF and, as far as he is concerned, the Parliamentary majority at the FBiH level no longer exists.
"For us, SDA and HDZ are free to form a new parliamentary majority, thus we call on them on to do so since FBiH deserves it", Komsic said.
Asked by reporters whether having the DF out of the governance at the level of the FBiH would affect the Council of Ministers of BiH, Komsic said it would not, as he ardently supported the British-German initiative thus it did not matter whether the DF was in the government or opposition.
"It has our unreserved support and we will keep supporting it unreservedly, regardless of whether someone is a minister or not", Komsic said.
He added that nobody from SDA contacted him, but even in the case that they did, he said doesn't know what there is to talk about with them.
"We have talked many times but everything has failed over the law. We stubbornly argue that the law must be respected and that it is not up to discussion, but they claim otherwise. Let the Court of Law speak instead", Komsic added.
HDZ President, Dragan Covic, said that for this party, partnership with SDA and DF is over.
"I have the feeling that somebody wants to act as a floating mine that has the task of destroying everything we have agreed upon. I think that this partnership of three parties is finished", Covic told the media in Sarajevo.
He added that, on his opinion, F BiH Government was never in full function since it was established, two and a half months ago. Covic said that he would like to know what real plan of DF is and what is the meaning of the DF leaders' statements.
At this moment, everybody is occupied with Pope Francis' visit on Saturday and first real reactions and consequences of this event will be known next week. Some preliminary meetings between the HDZ and SDA leaders took place Friday, but nothing was fully agreed. Some rumors say that it is possible the new coalition partner is the Party for Better Future of BiH (SBB BiH).