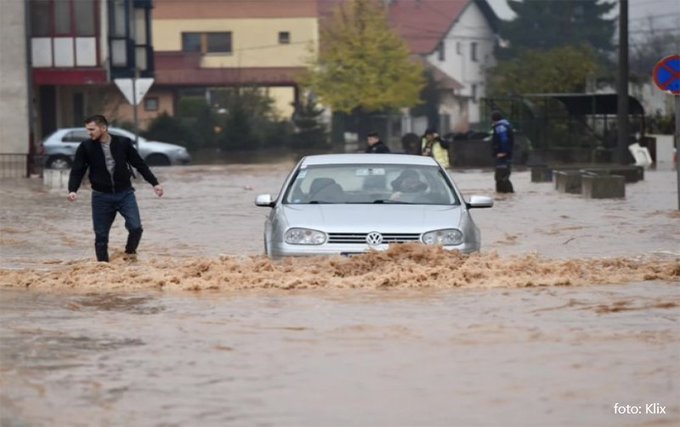 Due to the rain that has been falling in the whole of Bosnia and Herzegovina for the third day, the level of rivers has risen, and on the night from Thursday to Friday, some of them overflowed their banks.
Everything is reminiscent of the great floods from 2014, when, seen from the air, most of BiH and neighbouring countries in the basin of the Sava and Danube rivers were one huge lake. The very fact that the rivers overflowed again indicates that the competent services have not learned much in the last seven years.
The worst situation is in the area of ​​Sarajevo Canton (KS), where almost all rivers and streams overflowed. What is an even bigger problem, in the municipality of Pale, in the Republika Srpska, the water level of the rivers that flow into Miljacka, the river that flows through the centre of Sarajevo, has also risen. According to the latest information, the water level of Miljacka is slightly falling, but a larger inflow from the Pale region could create a problem again. In several city settlements, firefighters and other emergency services are helping citizens get out of flooded houses. The situation is similar in several other cities in BiH.
"We have a situation in which some citizens are endangered and we want to respond adequately. The situation is serious but under control. We call on citizens to reduce their movement to the necessary minimum, whether it is a movement within the canton or travel outside it," said Edin Forto, Prime Minister of Sarajevo Canton, addressing the media after an emergency session of the Cantonal Government.
Forto announced the conclusions that the Government of KS made today, but added that the Government will be in a permanent session if necessary.
"The KS Civil Protection Headquarters was ordered to initiate all measures for active flood protection for the KS area. The Cantonal Civil Protection Administration is ordered to go to the flooded areas with its resources and manpower ", stated Forto, reminding that KS has a current plan on flood protection.
He also asked the municipal civil protection headquarters to go out on the field of the flooded areas.
"Public utility companies are ordered to invest all their resources and machinery in the fight against floods." The competent ministries are ordered to stop the work of schools in the flooded areas, as well as the work of kindergartens and other public institutions," he said, emphasizing that three schools have already been closed.
The Prime Minister of the Republika Srpska, Radovan Višković, ordered that the Civil Protection in all cities in this entity monitor the situation with the water level on the ground and react in case of need.