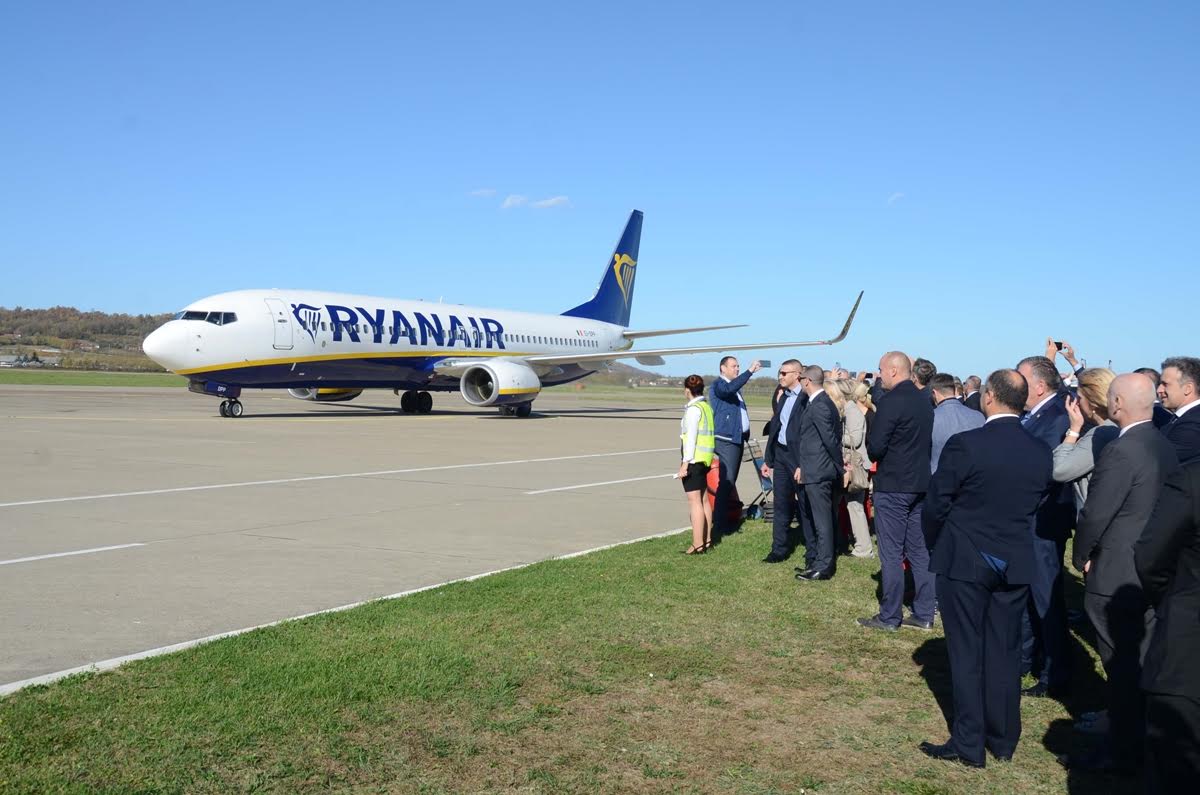 The first Ryanair flight from Stockholm Skavsta (airport) to Banja Luka landed on Tuesday morning at the Banja Luka International Airport.
A welcoming party was organized at the Airport, and it was attended by Republika Srpska's Prime Minister Željka Cvijanović, the Minister of Transport and Communications, Neđo Trninić, the Minister of Trade and Tourism, Predrag Gluhaković, the Ambassador of Ireland to BiH who is based in Ljubljana (Slovenia), Myles Geiran, the director of the Banja Luka Airport, Duško Kovačević and Banja Luka's Mayor Igor Radojičić.
High officials from of other cities in the region also attended the ceremony.
In addition to the capital of Sweden, in next few days the low-cost Irish Ryanair will connect Banja Luka with Brussels, Belgium and Memmingen in Germany.
Republika Srpska's PM Željka Cvijanović said that the co-operation with Ryanair and its operations from and to the Banja Luka Airport are of huge importance to this BiH entity and the city of Banja Luka in particular (the de facto capital of the Republika Srpska entity).
"It is my pleasure to attend this event. This means a lot to our citizens, business people, tourists, and is the result of efforts we invested in when establishing these flights", Cvijanović said after the first Ryanair flight from Stockholm Skavsta landed in RS.
She also noted that now there are other airlines that express interest in doing business with Republika Srpska.
"This is the beginning and I expect huge benefits for the region since service industries will be involved too", Cvijanović underlined.
The Republika Srpska Minister of Transport and Communications, NeđoTrninić, stressed that the RS government invested certain funds in the airport's modernisation.
"I am proud to attend something that we planned a long time ago. Now, we have a modern facility, even though there is still work to be done. The Government will continue to invest in the development of the airport and I believe that we will expand the co-operation with Ryanair and (with) other companies", Trninic said.
The Banja Luka Airport general manager, Duško Kovačević, also pointed out that this is a great day for the airport.
"This is a historic moment for us. The most important thing is that our citizens are able to use the services of low-cost airlines to travel to European cities", Kovačević stressed.
Passengers wishing to reach downtown by bus should know there is a line from the airport straight to the city centre, a local company runs it and the ticket costs 5 euros (10 BAM). The same shuttle service is also available to the passengers of AirSerbia.
The Banja Luka International Airport faced numerous problems in the past years. Larger regional airports and bad management led it a step before bidding farewell to cargo and travel services.
Ireland's famous low-cost airliner appeared as the last chance that could save it. At present, it is up to the management to use this opportunity in the best possible way. The airport's authorities anticipate Ryanair will carry some 100.000 passengers to the three destinations available to the public within the first year of its operations while it is expected that 75 on-site job posts will be opened. For Ryanair, Banja Luka is the first destination in Bosnia and Herzegovina and the 37th overall….. / IBNA