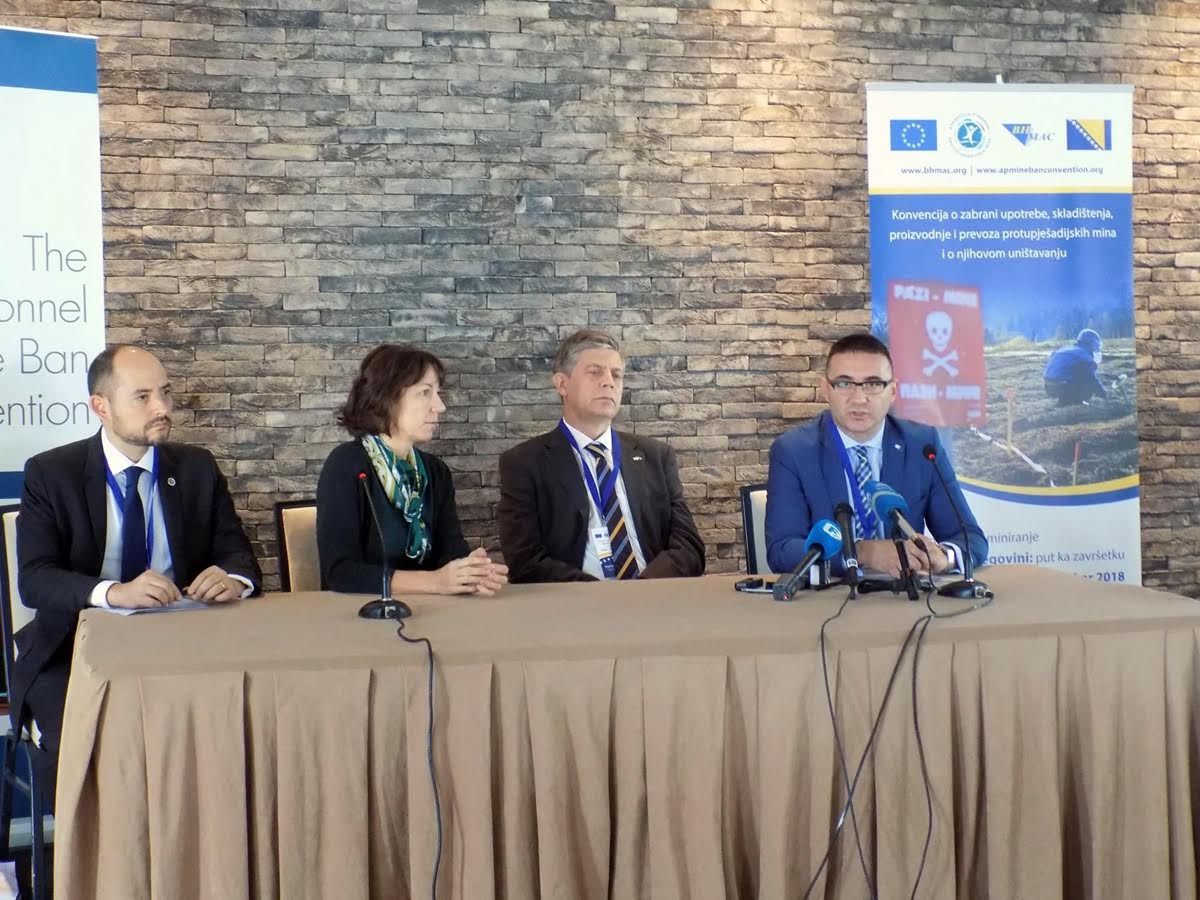 Acting director of the BiH Mine Action Centre, Saša Obradović, stated on Thursday that the implementation of the new strategic plan to turn Bosnia and Herzegovina into a landmine free country by 2025 requires an amount of BAM 336 million.
Ahead of the conference Humanitarian Demining in BiH: Path to Completion, Obradović said that the goal of this event was to raise awareness of the mine action programme in BiH and consider the possibilities of mobilising all available resources in that field. He said the process was supposed to end in March 2019 but financial reasons slowed down activities and, in April this year, BiH filed a request for the extension of the deadline until 2025.
"It takes plenty of political will to complete the process within BiH by 2025. Together with donors and participants in mine action operations we must slowly finish this and finally be able to say that BiH is free of mines", said Obradović.
The conference, organised by the BiH Ministry of Civil Affairs, the Demining Commission and BiHMAC, gathers representatives of institutions, non-governmental organisations, private sector staff and representatives of international and local organisations involved in resolving the issue.
The event is expected to present a new mine action strategy through 2025 as the basis of extending the deadline for meeting the requirements set out in the Convention on the Prohibition of the Use, Stockpiling, Production and Transfer of Anti-Personnel Mines and on their Destruction, informally known as The Ottawa Treaty.
The head of the EU Delegation to BiH, Lars-Gunnar Wigemark, stressed that the EU supported demining activities in BiH as much as the ratification of the Ottawa Treaty, which was an important document.
"Unfortunately, there are still areas in BiH which need to be cleared from mines and all of us must work on that. So far, EU invested more than EUR 46 million in this activities.Also, the plan is to invest more funds in the next two years for joint activities in cooperation with the competent authorities", said Wigemark.
Wigemark noted that the Council of Ministers at its session on Thursday was supposed to adopt a new strategic plan envisaging a BiH clear from mines by 2025. Unfortunately, the session was cancelled in the early afternoon hours so the plan must wait for some time.
Wigemark added that "landmines are a threat and prevent the future development of potential in the socio-economic area, agriculture, tourism and other sectors" and no one can allow political reasons to prevent resolving this immensely important issue.
Swiss Ambassador to BiH Andrea Rauber Saxer called on the BiH authorities to make even greater efforts and improve co-ordination in order to resolve the landmine problem by 2025.
Since the end of the war, 614 persons died in mine-related accidents. Three such incidents occurred this year leaving one person dead and three injured. All of them happened in marked minefields. People entered the marked areas while hunting and due to accompanying their animals during cattle grazing…. / IBNA