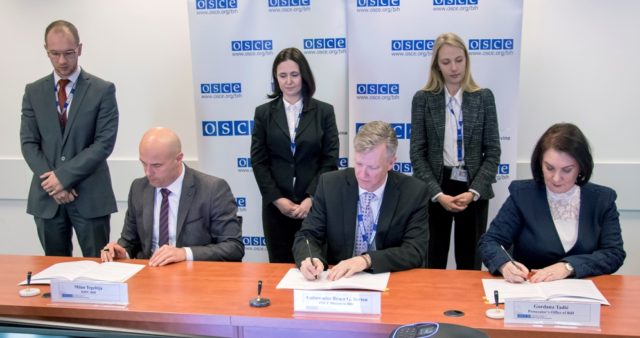 Šef Misije OSCE-a u Bosni i Hercegovini (BiH), Bruce G. Berton, predsjednik Visokog sudskog i tužilačkog vijeća BiH (VSTV), Milano Tegeltija, i glavna tužiteljica Tužilaštva BiH, Gordana Tadić, potpisali su u petak Memorandum o razumijevanju koji pruža podršku razvoju digitalne arhive svih dokaza koji se odnose na predmete ratnih zločina u posjedu Tužilaštva BiH.
Berton je rekao da će Memorandum omogućiti stvaranje elektronske baze podataka koja sadrži sve dokaze dostupne u Tužilaštvu BiH.
"Ovaj digitalni arhiv je važan korak naprijed u procesuiranju slučajeva ratnih zločina na državnom nivou, i to je jedna od preporuka izvještaja sudije Joanne Korner iz 2016.", dodao je Berton.
Memorandum je potpisan u okviru Projekta za unapređenje procesuiranja ratnih zločina. Tadić je naglasio da su aktivnosti u okviru ovog projekta od ključnog značaja za procesuiranje ratnih zločina, jer svaki predmet sadrži veliki broj dokaza.
"Veoma je korisno imati bazu digitalnih dokaza koja će omogućiti brži i efikasniji pregled dokaza, kao i lakše sortiranje dokaza i pripremu vrlo složenih slučajeva. To će značajno olakšati i doprinijeti efikasnijem procesuiranju predmeta ratnih zločina, što je od koristi svim stranama u postupku," rekla je Gordana Tadić.
Tegeltija, u ime Visokog sudskog i tužilačkog vijeća Bosne i Hercegovine, pozdravio je Memorandum kojim se izražava podrška svakom obliku saradnje sa međunarodnim organizacijama u cilju jačanja vladavine prava i uspostavljanja funkcionalnog sistema koji neće koristiti samo sudijama i tužiocima u njihovom radu, nego i široj javnosti u Bosni i Hercegovini.
"Naš zajednički cilj je da se predmeti ratnih zločina finaliziraju u optimalnom roku, kako bi se, konačno, ostavio težak ratni teret iza nas i posvetili se uspostavljanju kvalitetnog pravosudnog sistema," kazao je Tegeltija.
Projekat za unaprjeđenje procesuiranja ratnih zločina, koji provodi Misija OSCE-a u BiH, finansira Vlada Ujedinjenog Kraljevstva (UK).
Britanski ambasador u BiH Matthew Field rekao je da je vlada Velike Britanije čvrsto opredijeljena za promociju vladavine prava u Bosni i Hercegovini. On je dodao da je krivično gonjenje pojedinaca odgovornih za ratne zločine, zločine protiv čovječnosti i genocid važno za osiguravanje pravde i osiguranje trajnog mira.
"Ovaj projekat je nastavak našeg prethodnog zajedničkog rada sa OEBS-om u rješavanju izazova koji ometaju procesuiranje predmeta ratnih zločina na državnom nivou. Taj rad je rezultirao nizom preporuka sudije Kornera, a ova baza podataka je jedna od njih," naglasio je Field.
On je istakao da su preporuke i dalje veoma značajne, posebno ponovno uspostavljanje geografske strukture tima i uvođenje mentorskog sistema za nove tužioce.
"Pozdravljamo posvećenost glavnog tužioca sprovođenju ovih preporuka koje će osigurati efikasnije procesuiranje ratnih zločina i dalje poboljšati sposobnosti Tužilaštva da se fokusira na složenije slučajeve koji uključuju počinioce na visokom nivou," zaključio je britanski ambasador.
Misija OSCE-a u BiH i britanska ambasada u Sarajevu ponovili su svoju opredijeljenost za pružanje kontinuirane podrške pravosudnim institucijama u BiH, kako bi se osigurala efikasna obrada ratnih zločina, čime se doprinosi izgradnji snažnog, nezavisnog i efikasnog pravosuđa.
Mladen Dragojlović