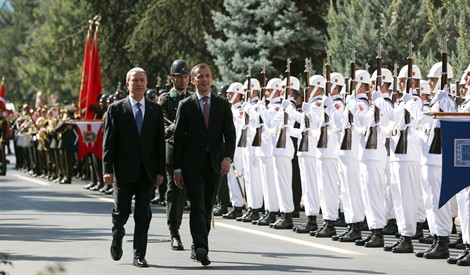 Montenegro's Minister of Defence Predrag Bošković paid an official visit to the Ministry of National Defence of the Republic Turkey and met with Minister of National Defence of Turkey, Hulusi Akar.
Bošković stated that he is satisfied with the cooperation of the two countries in the area of defence and thanked the Republic of Turkey for the continued support to Montenegro. He emphasised the readiness to continue the intensive cooperation and consider new bilateral projects, especially bearing in mind the highly developed military industry of the Republic of Turkey.
"The Minister noted that strengthening of the defence capacities is a national imperative and he informed the Turkish counterpart about the process of modernisation of the Armed Forces of Montenegro. Furthermore, he expressed particular satisfaction with the upcoming projects, in the form of support for the Turkish side, which refer to the trainings of the members of the Armed Forces of Montenegro in the Republic of Turkey training centres, as well as the purchase of equipment of Turkish production for the needs of the Montenegro's Armed Forces", said the Montenegrin Ministry of Defence in a statement.
In that regard, the two officials signed an Agreement on military – financial cooperation, the implementation Protocol in terms of financial support between the governments of Turkey and Montenegro, as well as the Protocol of the grant between the Ministry of Defence of Montenegro and the Ministry of National Defence of Turkey.
Minister Akar expressed satisfaction with the established bilateral cooperation between Montenegro and Turkey, particularly highlighting the contribution of the Armed Forces of Montenegro to the collective security system. He pointed out the significance of strengthening national capacities by intensive investments in the field of defence in order to tackle the current security challenges.
Both sides expressed particular satisfaction with the cooperation in the area of education, bearing in mind that one Montenegrin cadet was sent to the Military Academy in Ankara./ibna