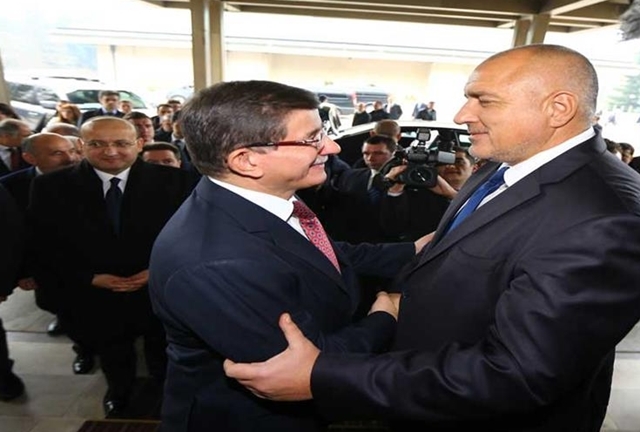 Sofia, December 15, 2015/Independent Balkan News Agency
By Clive Leviev-Sawyer of The Sofia Globe
The migration pressure on Bulgaria's border is gone thanks to Turkey's hard work, Bulgarian Prime Minister Boiko Borissov said on December 15 after talks in Sofia with his Turkish counterpart, Ahmet Davutoglu.
Davutoglu promised that while his party was in power in Turkey, relations with Bulgaria would be among its priorities.
The Turkish prime minister also expressed confidence that trade with Bulgaria, currently worth five billion dollars, would increase.
Davutoglu said that major transport projects would be carried out, the next one a high-speed train linking Istanbul and Sofia.
"Bulgaria is a door for Turkey to the EU," he said. He said that in the context of regional policies, he and Borissov had discussed a number of issues, including collaboration among Bulgaria, Turkey and Greece.
One of the most important issues was the human tragedy and problem of migrants in Syria. Davutoglu said that regrettably, there was a barbarous regime in Syria and people were compelled to leave.
He told a joint news conference with Borissov, "we will link Bulgaria to Turkey through an interconnector for the supply of gas from Azerbaijan".
Borissov said that his country, Turkey and Greece intended building gas interconnectors that, together with the proposed "Balkan gas hub" would ensure genuine diversification of energy supply and an unimpeded flow of natural gas in all directions.
During his visit, Davutoglu was also scheduled to meet Bulgarian head of state President Rossen Plevneliev and Bulgarian Orthodox Church head Patriarch Neofit. Plans are to hold a Bulgarian-Turkish government joint summit in April.
A group of about 200 supporters of Volen Siderov's Ataka party, which is anti-Turkish, held a protest in the capital against the Davutoglu visit.