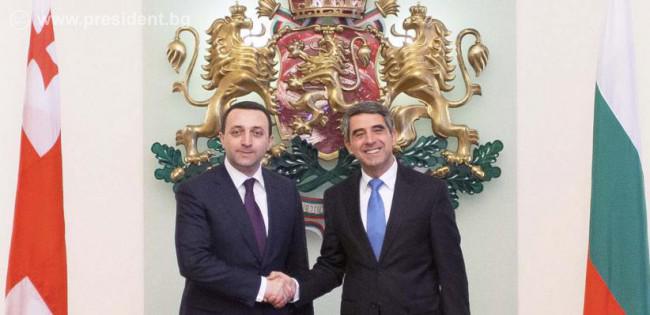 Sofia, December 7, 2015/Independent Balkan News Agency
By Clive Leviev-Sawyer of The Sofia Globe
Bulgaria supports Georgia's accession to the EU and NATO and will lend the support expected of it for visa liberalisation for Georgians, Prime Minister Boiko Borissov told his Georgian counterpart Irakli Garibashvili on December 7.
Garibashvili was in Sofia on an official visit during which he also held talks with President Rossen Plevneliev and National Assembly Speaker Tsetska Tsacheva.
At their talks, Plevneliev said that visa-free travel for Georgian citizens in the EU must as soon as possible to become a reality. Plevneliev said that Bulgaria welcomes the rapid and steady progress of Georgia in implementing the Action Plan on visa liberalisation with the EU and said there is no reason to delay a decision.
Borissov and Garibashvili signed a memorandum of co-operation on European and Euro-Atlantic integration.
"European integration remains a cornerstone of our foreign policy. I hope that your experience will be very useful for us," Garibashvili said, thanking Borissov for Bulgaria's strong support to Georgia's efforts towards European integrationand liberalisation of the visa regime for which the European Commission is to give its consent, a government media statement said.
Borissov, noting the cordial relations between the two countries, pointed out specific areas where co-operation could be deepened, such as the Silk Road transport corridor.
What is more interesting for the citizens is the transport corridors, which are highly important for us in terms of the goods lorries and trains," Borissov said.
The new Silk Road would allow the ports of Georgia and Bulgaria to become part of this corridor.
"We will also work for the tripartite co-operation among China, Georgia and Bulgaria and make it bring good benefits and results," Borissov said.
"Another thing that can help us in the future is Bulgarian Foreign Minister's visit to Iran on December 22 and 23.We hope to establish even better relations for the LNG terminal at the Georgian ports," Borissov said.
Georgia's prime minister also underlined that there was great potential for development of bilateral cooperation in various fields, and focused specifically on transport and trade.
After the talks, the Bulgarian and Georgian ministers of agriculture signed a memorandum of understanding, the statement said.
A statement after the meeting between Plevneliev and the Georgian prime minister said that Plevneliev had expressed strong support for the Euro-Atlantic integration of Georgia, which was a strong and reliable partner of the EU and NATO in the region.
Bulgaria and Georgia are crucial for connectivity in the Black Sea region and the potential for cooperation in strategic infrastructure and energy projects is significant, Plevneliev and the Georgian prime minister agreed. Both sides support the implementation of the Southern Gas corridor, and Georgia is an important partner in projects to diversify sources and routes of supply of natural gas to Europe and Bulgaria.