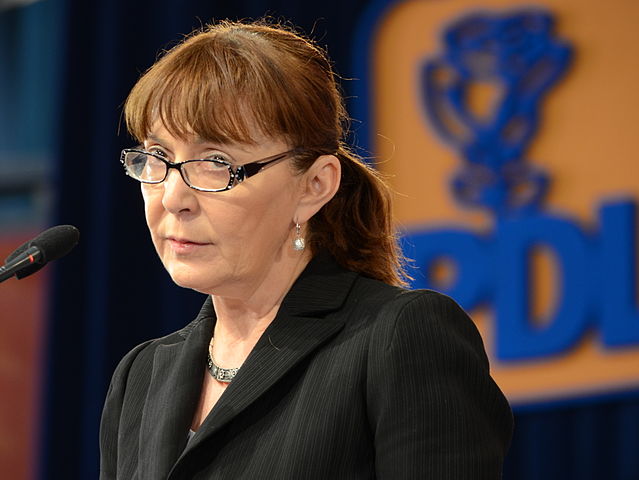 Sofia, May 25, 2015/ Independent Balkan News Agency
By Clive Leviev-Sawyer of Τhe Sofia Globe
Bulgarian Prime Minister has no intention of fighting corruption, according to Romanian MEP Monica Macovei, a former justice minister when that country launched a high-profile campaign against corruption.
Interviewed by local television during a visit to Bulgaria and asked to comment on statements two weeks ago by Borissov that in Romania's justice system, "nothing happens other than political persecution", Macovei dismissed the claim as "a lie, a complete lie".
Romania investigated politicians from all parties and the evidence was presented to the public when cases went to court, she said.
For Bulgaria, the most effective way to work would be to emulate what had been done in Romania.
"We have to stop stealing, stop corruption and financial fraud, money laundering." She said that politicians should stop doing these things and those who had done them should be punished.
Borissov's comment was "a bad sign, it is a sign that there is no intention to fight against corruption in Bulgaria," Macovei said.
She said that the first step would be to find a good prosecutor, " hard man who would not succumb to pressure, corruption and blackmail".
Macovei is in Bulgaria to participate in the discussion on "Bulgarian voices against corruption – who hears them?". The forum is the first official act of the newly established Civil Initiative "Justice for All".
Macovei was justice minister in the 2004-2007 period.
Observers say that thanks to her, Romania managed to achieve the most comprehensive judicial reform in any country of the former Soviet bloc.
According to Macovei, the Romanian model was so successful not just because independent anti-corruption bodies were created, but also because of independent magistrates.
Currently, as a MEP for the European People's Party, she is an adamant defender of the monitoring mechanism of Bulgaria and Romania because she believes that it was created to serve the people who want justice that operates freely, a fight against organised crime and equality before the law.
(Photo: Razvan Socol)