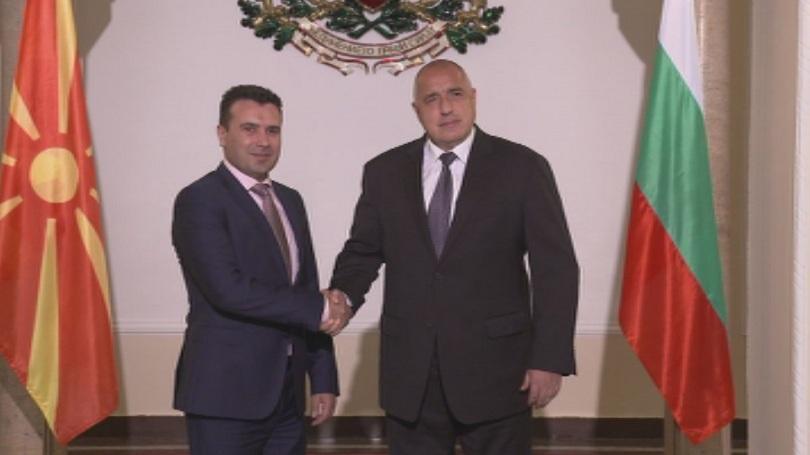 Hosting his recently-elected counterpart from Skopje in Bulgaria's capital Sofia on June 20, Prime Minister Boiko Borissov said that a good neighbourliness agreement between the two countries was "very close".
The issue of concluding a good neighbourliness treaty between Bulgaria and the former Yugoslav republic has been dragging on for years amid the complexities and difficulties of relations between the two countries.
Bulgaria was the first country, in 1991, to recognise FYROM under the name "Republic of Macedonia", but bilateral relations have been frequently fraught with tensions. Borissov is the latest in a line of Bulgarian leaders to express optimism about achieving the good neighbourliness agreement.
Plans are for Borissov to go to the neighbouring country on August 2, for celebrations of Ilinden – the day that the country marks the 1903 Ilinden uprising and the 1944 assembly that was a milestone towards the forming of the republic, as well as being a major religious holiday – and the leaders hinted at hopes that the good neighbourliness treaty would be signed by then.
"Should we continue to be separated, after many countries have set an example of how they develop when they share their heroes and historical personalities together? So we decided with Prime Minister Zaev to go to the monument of Tsar Samuil. This is something we can celebrate together," Borissov said.
The visit by the two prime ministers to the statue of Tsar Samuil in Sofia was not on the original programme but was added spontaneously at the suggestion of Zaev.
"Cyril and Methodius, our brothers, we can all rejoice at what they have done. Instead of being a joyous occasion, it becomes a cause for disarray," Borisov said, referring to the two founders of what became the Cyrillic script, and recent controversies involving Russia and alternative claims about the development of the Slavonic alphabet.
"After Zaev takes this risk to come to Samuil's monument, on August 2 we will do the same thing when the Ilinden uprising is celebrated."
Borissov said he hoped the foreign ministers of the two countries and their teams would achieve the right solution by August 2.
"This is good for both Brussels and our citizens because we have no right to hold citizens in the Balkans so long outside the big European family," Borissov said.
Zaev said that he was convinced that on August 2, FYROM and Bulgaria will sign the good neighbourliness treaty.
"What we do is more valuable than any treaty. It is an act of revering the common history. This is much more valuable than any treaty. These are small details," Zaev said, adding that the goal was for the treaty to be signed during Borissov's visit on August 2.
Borissov said that if FYRO Macedonia did not make an effort, no one could help it with Nato and EU membership.
"It all depends on the political elite in Macedonia, if they fail to make the important steps, whatever help they get will not be enough. If we work together, I think we will be successful. The Balkans are in the focus of both the EU and Nato," he said.
"Macedonia today closes a chapter on the history of nationalism and hatred and opens its way to a European future", Zaev noted, an added that "Macedonia has a European future, there are friends who want to help, and I am happy that Macedonia has such a friend as Prime Minister Boiko Borisov, who is happy to help his neighbour".
"Our friendship is sincere, we are not just asking for help, our intentions are real, I want to say to friendly Greece – we need help and support, Greece is also a NATO and EU member," he said.
With the building of good neighbourliness and friendship, the Western countries will respect the Balkans much more, Zaev said./IBNA