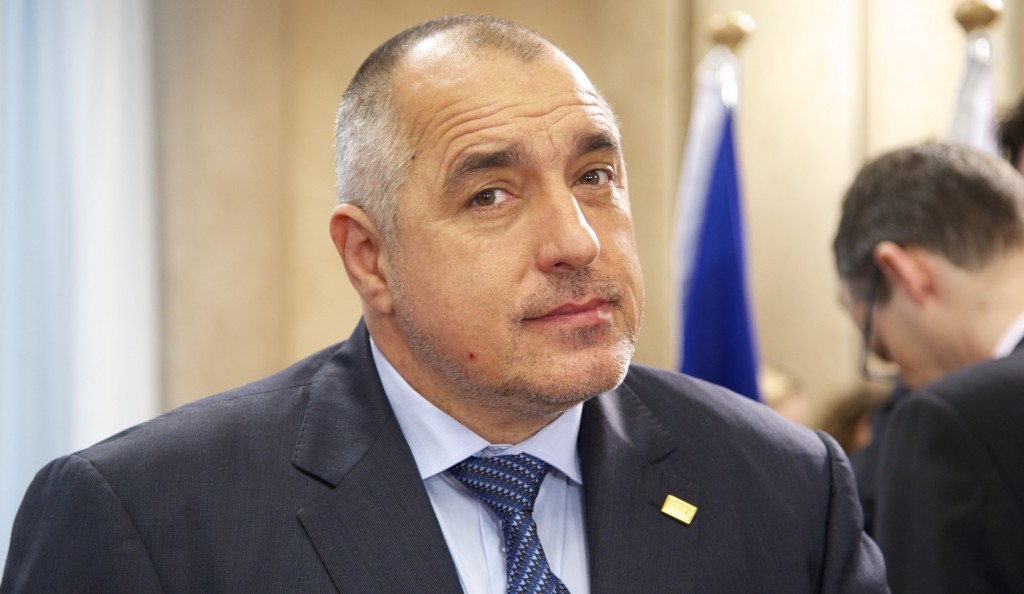 Sofia, January 25, 2016/Independent Balkan News Agency
By Clive Leviev-Sawyer of The Sofia Globe
Bulgarian Prime Minister and centre-right GERB party leader Boiko Borissov is keeping the country guessing over who his party's candidate will be in autumn 2016 presidential elections, while speculation continues that he may also take the country to ahead-of-term parliamentary elections – the latter possibility one that Borissov has not ruled out.
Rossen Plevneliev, elected head of state on a GERB ticket at the end of 2011, has declined to say whether he will be available to stand for election to the second term as President that Bulgaria's constitution makes possible.
Speaking to journalists on January 21, Plevneliev said that it was too early to comment on the question. At the weekend, Tsvetan Tsvetanov, one of GERB's deputy leaders, said that GERB was considering five possible presidential candidates, declining to say whether the list included Plevneliev or to disclose any names.
There has been speculation in the media about "tensions" between Plevneliev and Borissov, but this has been denied by both sides.
In his term of office as President, which recently passed the four-year mark, Plevneliev has had a more turbulent time than he may have expected when he took office in January 2012. Amid the political dramas of 2013/14, Plevneliev twice had to appoint caretaker governments. He also saw his campaign for a referendum on key electoral reform issues diluted, including at the hands of GERB itself.
Speaking on January 24, Borissov denied that Plevneliev should be ruled out as the possible GERB candidate for President, saying that the party had not withdrawn its confidence in Plevneliev. But Borissov added that GERB's candidate might be a woman – a repeat of a message that he sent in 2015, which at the time fuelled speculation that Borissov might drop Plevneliev from the presidential election ticket.
Borissov went on to say, responding to speculation about "two in one" elections in the autumn – Bulgaria's presidential elections are seen as likely to held around the end of October 2016 – that it could be a good time for parliamentary elections because the government, in which GERB is majority partner, had produced good financial and economic results and its rivals were hardly able to debate it.
A further complication is that Bulgaria has not yet formally nominated its candidate to be the next United Nations Secretary-General. All UN member states should submit the names of their candidates in writing by March 2016.
In its dying days, the now-departed Bulgarian Socialist Party-Movement for Rights and Freedoms was reported to have named Irina Bokova, the Bulgarian now in a second term as head of UNESCO, as the country's candidate to be the next UN chief.
For the current government to publicly endorse Bokova would be unpalatable among many of Bulgaria's centre-right and right-wing electorate, given Bokova's communist-era pedigree, her former very public association with the Bulgarian Socialist Party, a father who was prominent in the Bulgarian Communist Party and a husband who formerly worked for the communist-era secret service State Security as Agent Simeonov.
There has been extensive media coverage of the apparent possibility of Borissov's government instead opting for Kristalina Georgieva, now in a second term at the European Commission, as its vice-president in charge of the EU budget, after an applauded first term holding the humanitarian assistance portfolio.
Dumping Bokova would irritate – apart from Bokova herself, who has pleaded publicly for endorsements – the opposition Bulgarian Socialist Party, a factor hardly much to worry Borissov given that party's declining significance – but also Georgi Purvanov's ABC, the socialist breakaway minority party that is a junior partner in the Borissov coalition government. Purvanov has said that his party would consider quitting the government should Bulgaria not move quickly to put up Bokova's name.
Another theory is that should Borissov opt for Georgieva, Plevneliev might be sent as her replacement at the European Commission, meaning quite a merry-go-round in posts held at high level by Bulgaria's representatives.
Borissov's GERB is not alone in not having made clear who its candidate will be.
The BSP, however much a diminished force, remains the second-largest (albeit by far) party in the National Assembly. Like all other parties, it would have to make its candidate known about – at very least – a month before the end of October.
Before then, the BSP will be holding a national congress in May, including leadership elections. Mihail Mikov, a former interior minister and a former Speaker of the National Assembly, is the current leader, having been elected in 2014 after Sergei Stanishev stepped down. As party leader and a former holder of government and state posts, Mikov might seem to be a possible BSP candidate for President, but it not yet known whether he will seek a further term as BSP leader and even if he does, whether he would win it.
On the centre-right spectrum, there is GERB's minority partner in government, the Reformist Bloc, now split into a majority that continues to support the Borissov cabinet and a minority – of one, Radan Kanev's Democrats for a Strong Bulgaria party – that does not.
Kanev is getting underway with a new political project that could mean further trouble for the Reformist Bloc, and in 2015 hinted that he would be interested in being a presidential candidate. As regards the Reformist Bloc, a question in 2015 was whether there could be a joint GERB-Reformist Bloc presidential candidate. Given the split in the coalition bloc, and the fact that it could well – at least the majority of it, minus the DSB – decided to take the same route as it did in the 2015 municipal elections, fielding its own candidates, the prospect of a joint GERB-RB presidential candidate seems currently somewhat unlikely.
Borissov and his advisers currently hold the cards and are not showing them. A major factor in a decision on two-in-one elections, whatever the pretext for them, would be that opinion polls suggest that GERB could return with a larger presence in a new National Assembly, with some of the minority parties now represented in the eight-group Parliament gone.
Borissov has said that should he be unable to form a government after such theoretical elections, he would decline to work with the BSP or the Movement for Rights and Freedoms – meaning that should he take the gamble of new elections (which would be Bulgaria's third parliamentary elections in four years) and not be able to form a majority coalition, the country could find itself in a politically awkward place similar to that of the time of the formation of the BSP-MRF ruling axis in 2013.