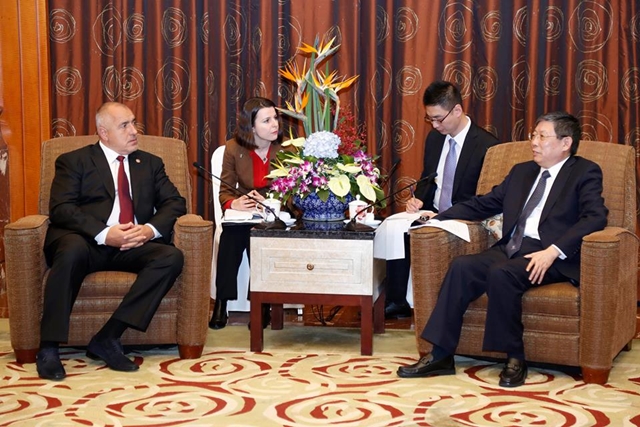 Sofia, November 23, 2015/Independent Balkan News Agency
By Clive Leviev Sawyer of The Sofia Globe
Bulgaria and its neighbouring countries Romania, Serbia and Romania should propose joint infrastructure projects to attract Chinese investments in the Balkan countries, Bulgarian Prime Minister Boiko Borissov is to tell a meeting between 16 Eastern European countries and Chinese premier Li Keqiang.
Borissov is in China leading a delegation of seven Cabinet ministers and 36 business people and apart from meeting Chinese authorities is to attend a November 23 conference organised by the Invest Bulgaria Agency entitled "Invest in Bulgaria. Expand in Europe". The Bulgarian business delegation includes representatives of firms in the agricultural sector, the wine industry, tourism, rose oil cosmetics and electronics.
On November 24, Borissov is to attend the fourth leaders' meeting of China and countries from Central and Eastern European countries, focusing on the promotion of economic relations. China is planning to double its trade with the countries of the region by 2020 with an emphasis on infrastructure projects.
Borissov told reporters accompanying him on the trip that Bulgaria was completing the modernisation of its rail and road infrastructure.
Bulgaria is to argue that the container terminal in Bourgas is a selling point to attract Chinese investment in infrastructure. This would be a continuation of the "Silk Road", which currently reaches the Russian port of Poti on the other side of the Black Sea.
Tomislav Donchev, Deputy Prime Minister for EU funds and economic policy and a member of the delegation to China, told a business forum in Shanghai that five European corridors pass through Bulgaria, linking it to a market of 500 million people in the EU.
Economy Minister Bozhidar Loukarski said that Bulgaria seeks the development of logistics, assembly and production facilities, while Agriculture Minister Desislava Taneva highlighted the advantages of Bulgaria for the development of agriculture.
Bulgaria want to attract Chinese interest in importing Bulgarian fresh cherries. Currently, Bulgaria exports only corn, lavender and fishery products to China.
The key focus of Invest Bulgaria's conference in Shanghai on November 23 is information and communication technology, outsourcing of business processes, food and agriculture, electronics and electrical engineering, transportation equipment and machine building.
China is Bulgaria's largest trading partner in Asia. However, official figures show a decrease in exports as well as imports in the first six months of 2015.