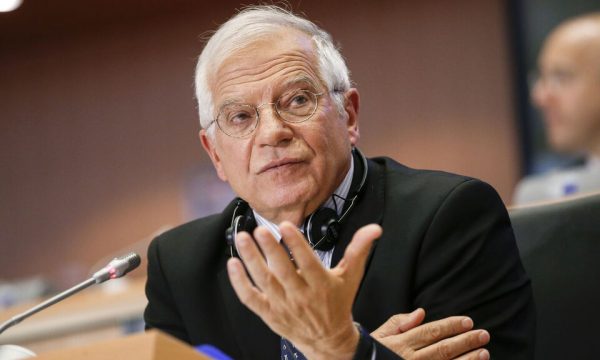 EU High Representative for Foreign Affairs and Security Policy Josep Borrell has said after meeting with Kosovo's president that the European Union will mediate in the Pristina-Belgrade dialogue, without competing with US envoy Richard Grenell.
Borell says he will not compete with the Americans, adding that they will work together.
"Americans have a lot of plans. For the Middle East, Korea and here. It is a matter of having a plan and another matter of committing yourself to success. We have invested more than 1 billion. I'm not competing with the Americans, we will work together and there will be no divisions. We are not here to blame each other. We are probably not vocal enough but we are very involved in this issue", Borell says, adding that it is not his job to persuade five states to recognize Kosovo as independent.
"It is not my job to convince 5 states to recognize Kosovo. Here I represent the EU. We will not impose any agreement", he adds.
Asked why he has not yet met with Richard Grenell and whether they are on the same page regarding the dialogue, Borell says they will work together.
"I understand what you're saying. We are facilitating dialogue. The same thing is being done by Mr. Grenelle. We're not racing, we want to work together", he says.
After Borell's statement, the head of state said it was vital for Kosovo that the EU be unique in its dialogue.
"In terms of dialogue, it is vital that the EU is unique in relation to the Kosovo-Serbia dialogue. But for the US to succeed, there must be US-EU coordination; without this cooperation it cannot succeed. The role of the US is irreplaceable. Grenell has done a tremendous job. The final agreement is vital for the Western Balkans", President Hashim Thaci said./ibna