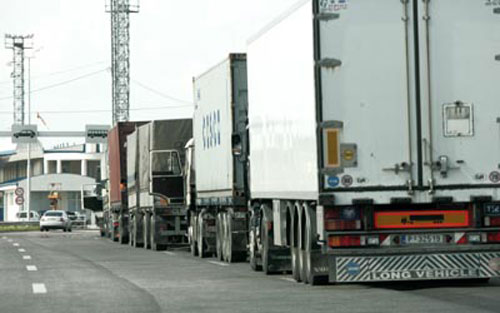 Skopje, September 10, 2013
The main border crossing point of Bllace between Kosovo and FYR Macedonia has been totally blocked by lorries and buses of FYROM and the crossing of cars is not allowed.
Lorries and four buses have also blocked the car lane, thus blocking their crossing in the border.
A border police officer in Bllace declared today that the border has been blocked as a result of the blockade imposed by FYR Macedonian transporters.
"Cars cannot cross for as long as blockades continue. This border crossing point can be only crossed on foot", declared the border police officer.
He appealed for the citizens to be informed about this situation and not to try and travel toward Kosovo or vice versa due to the blockade of the border crossing point.
Tens of cars were blocked last night in Bllace and demanded for the border to be opened.
The organizer of the blockade is MAKAMTRANS association of transporters from FYROM.
"Our objective through the blockade that we have made is to protest and demand for the two countries to negotiate about the recent restrictions, because we transporters are the first ones that feel the consequences", said Biljana Muratovska, general secretary of MAKAMTRANS.
A meeting is expected to take place today between authorities of Skopje and Pristina to overcome the situation and find a solution. Yesterday's meetings between ministers Mimoza Kusari Lila from Kosovo and Valon Saraniqi from the government of FYROM were focused to find a solution of this problem. New developments are expected today along with an intervention from Brussels to avoid the deterioration of situation between the two countries. /ibna/