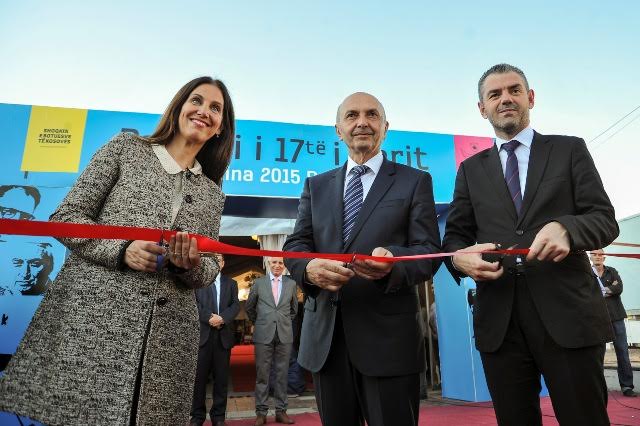 Pristina, 3 June 2015/Independent Balkan News Agency
By Elton Tota
The 17th edition of the Book Fair opened last night in Pristina. This fair will present books from almost every publishing house form Albanian speaking lands.
At the opening of this edition, the host, writer Daut Demaku talked about the main two pillars of a book.
"Two are the pillars that hold a book. The first one is the reader and the second one are the institutions", Demaku said.
In this case, he thanked the representatives of institutions for their support.
Present in this great cultural event was also the prime minister of Kosovo, Isa Mustafa. In his speech, he said that the fair strengthens cultural communication among Albanians.
"The participation of many publishing houses from all Albanian speaking lands, such as Kosovo, Albania, Macedonia and Montenegro, strengthens cultural communication between Albanians through the power of book and the power of book raises our awareness for our joint path toward integration", Mustafa said.
The same opinion was also shared by the Minister of Culture of Albania, Mirela Kumbaro, who said that "we must still work a lot to create a joint cultural space and without any borders between the two countries".
"It's been about ten years that I follow this fair, but this year, I have the pleasure to participate as part of our joint cultural calendar  Albania-Kosovo. I believe that we can say that this year, like last year, the calendar has gone well and this fair confirms the success of our joint cultural reality as a cultural space without frontiers", Kumbaro said.
Present in this fair was also the minister of Education, Science and Technology, Arsim Bajrami and minister of Culture, Youth and Sport, Kujtim Shala.
Part of this edition will also be a number of activities that coincide with anniversaries of Albanian and world literature figures, such as the 150th anniversary of birth of Zef Skiroi, 100th of birth of Roland Barthes, 100th anniversary of birth of Arthur Miller, etc.
The Association of Kosovo Publishers has also planned a solemn dinner, which will honor with the Fair trophy the best books of different genres.
The fair will also announce the writer of the year for Albanian literature, the writer of the year for foreign literature and the most visited stall.
This year, the book fair brings around 1000 new titles. This traditional activity which gathers readers, authors, publishers and book translators will be open until 7 June. /ibna/