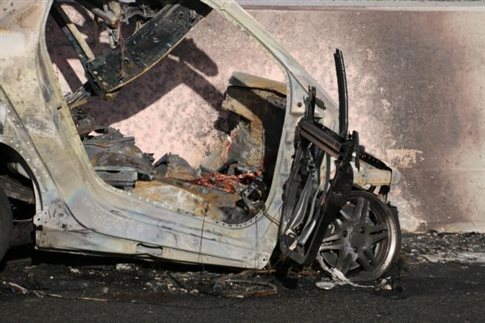 Athens, December 30, 2014/ Independent Balkan News Agency
By Spiros Sideris
Still unclear are the causes of the explosion on the vehicle, in which the 35-year old driver was killed and the woman passenger sufferred serious burns, at dawn yesterday at Attiki Odos.
According to competent police sources, the officers dealing with the case believe that it is an unknown explosive device, without excluding some other cause, since so far they have not found conclusive evidence from the place of the incident.
As a senior officer said, the investigation of the pyrotechnich experts of TEEM of the point of the explosion, have not revealed any remains of an explosive device or gunpowder.
However, the existence of a small crater in the street where the explosion occurred enhances the suspisions for the existence of an explosive device. For this reason, pieces of dissolved car and clothes of the 35-year old of investigation have been sent to the laboratories of the forensic service, in order to ascertain whether there are traces of another explosive substance that leaves no residues.
In addition, they are considering the possibility – albeit less likely – that the explosion was caused by a cause associated with the car.
The explosion took place at about 07.30 in the morning while the 35-year old Albanian transferred his girlfriend to the airport, who was to leave by air for Tirana.
According to eyewitnesses, and the cameras of Attiki Odos, initially fumes were sighted from the windows of the vehicle, which then moved for about 150 meters in flames, until it hit the divider parapet and explode.
The driver was thrown from his seat at some distance, while the girl managed to escape from the vehicle, which was completely destroyed by fire, having sustained burns and other injuries.