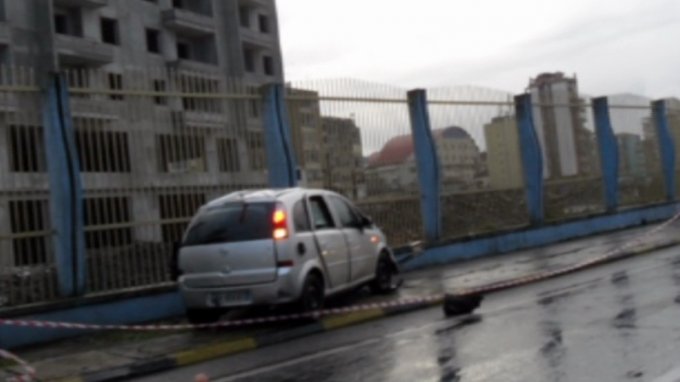 IBNA Special Report/Car bombs have recently become quite common and worrying in Albania
Tirana, January 19, 2015/Independent Balkan News Agency
Warden of a maximum security prison in Albania, remained seriously wounded on Monday, due to a bomb attack.
Arben Sulo, warden of the prison of Fushe Kruja, was travelling in his car when it exploded after the bomb under his car was remotely activated (photo) at the time when he was near the port of Durres.
Arben Sulo received injuries in different parts of the body, said an official source of the hospital of Durres for IBNA.
Due to the serious injuries that he received, the wounded person was sent for a more specialized treatment, added the same source.
A local police source admitted that the explosion was remotely activated. There are suspicions that the authors have placed the TNT substance in the lower part of the vehicle and through a mobile phone, they activated the explosion which happened on the street and which caused panic among pedestrians.
The vehicle was partially damaged, mainly on the part where the wounded person was placed. State Police says that it's still not able to determine the causes of this blast. There are suspicions that the attacked aimed at causing the death of the prison warden and motives relating to his post are the main investigation lead.
Explosives and car bombs have recently become a worrying phenomenon in Albania.
In the past 48 hours alone, three vehicles exploded in Durres.
These events followed an operation in Durres, where the Prosecution of Serious Crimes discovered a criminal ring that dealt with the trade and mounting of remote controlled explosives. Four people were arrested and they were found in possession of three cellular controlled mines, which were ready to be used and several other materials that served to build other mines of this kind (photo). For these mines, perpetrators used C4 plastic explosive. In order to discover this group, Prosecution of Serious Crimes infiltrated an anti-terror agent in the role of buyer.
The arrested men are suspected to have mounted some of the remote controlled mines used in several notorious attacks which have taken place in the recent months in Albania.
Police seems to have failed in preventing such crimes. Earlier in 2014, police said that it had discovered people who were suspected of having ties with the explosive attacks and seized a large number of explosive substances.
These operations came after the fact that 2013 ended with a number of explosives against cars, homes and businesses. Such serious events were also seen in 2014 and it seems that they will continue this year too.
Based on this situation, in the meeting held last week at the Presidency on security issues, President Bujar Nishani and PM Edi Rama expressed their concern about the recent attacks. They demanded more measures to be taken against criminal groups who perpetrate such attacks with such sophisticated means. /ibna/