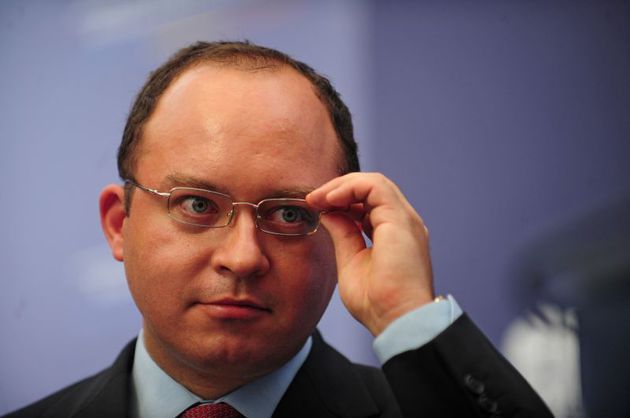 By Daniel Stroe – Bucharest
Romanian President Traian Basescu has today signed a decree to confirm Bogdan Aurescu as the new minister of Foreign Affairs, less than a week after his predecessor, Teodor Melescanu, resigned following a public uproar sparked by obstructed presidential elections in the Diaspora.
Aurescu's appointment came as a surprise since the Romania media and officials were floating the name of Mihnea Motoc, Romania's ambassador to the EU. His name was scrapped, but the Romanian Government has so far given no explanation about the decision even though the media speculated his removal from the short list is connected to an incompatibility situation his wife may find herself in.
Last Tuesday, Teodor Melescanu resigned, only two days after the presidential runoff, marred by a myriad of organization problems which left thousands of Romanians abroad unable to vote in the elections which ended in the victory of Klaus Iohannis. His resignation came only a week after a similar decision taken by Titus Corlatean, his predecessor, following an uproar sparked by the same bureaucratic hurdles voters faced in the Diaspora.
Thousands of Romanians couldn't vote in the two rounds of presidential elections on 2 and 16 November after enormous queues at the few polling stations abroad. The authorities resisted countless calls to set up new stations by saying such a measure would break the law, even if the Central Electoral Bureau repeatedly confirmed this is legally feasible.
A wave of uproar followed on social media after voters abroad were left out in the cold and rain after, in some cases, 12 hours of standing. The outrage gained proportions after furious voters clashed with police in Italy and France who used tear gas and batons to disperse protesters asking for their constitutional right to be observed. An investigation was launched last week into the circumstances of the poor organization of the presidential poll, Romania's General-Prosecutor announced. The electoral debacle abroad also prompted foreign officials to call on the European Commission to investigate Romania's inability to provide conditions for citizens to vote, a right guaranteed by the Constitution.
Aurescu, a young career diplomat and currently a secretary of state for strategic affairs in the Ministry of Foreign Affairs, came to prominence following the trial at the International Court in The Hague in which Romania and Ukraine disputed the continental shelf in the Black Sea. Romania, then represented by Aurescu, won about 80 per cent of the disputed surface. In 2010-2011, Aurescu led the negotiations with the US Government on the anti-missile shield.