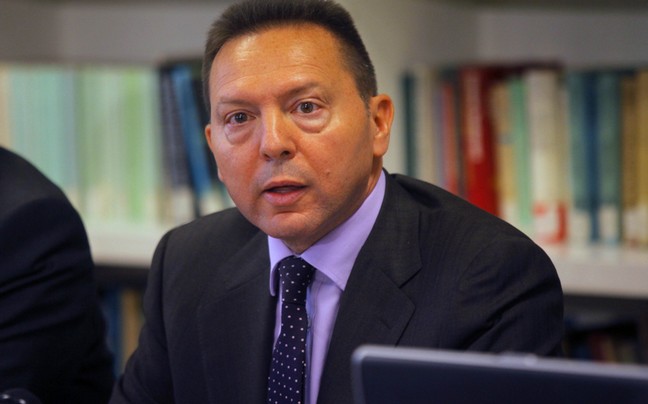 By Lefteris Yallouros – Athens
Bank of Greece Governor, Yannis Stournaras, has urged the country's banks to support in the restructuring of the economy.
Greece's largest banks are exploring strategies to return to private hands as the Hellenic Financial Stability Fund currently holds controlling stakes in most of them. Meanwhile, ECB stress tests have shown that the four systemic lenders are secure even in extreme credit conditions.
"Greek banks are today standing on stronger ground than in the recent past as their capital position has been significantly strengthened, as made evident by the European Central Bank (ECB) assessment" the central bank chief told Greek daily "Efimerida ton Syntakton".
Stournaras points out that the Greek banking system has turned a fresh page. "A few days before the four systemic banks come under the scrutiny of the ECB's Single Supervisory Mechanism (SSM) on November 4th, they all faced the important challenge of the ECB stress tests" he says, adding that this "allows them to turn their attention now to supporting the real economy through lending businesses and households and addressing the problem of non-performing loans".
Furthermore, speaking to "Imerisia" newspaper, pointed out that the paradox of fundamentals going in the right direction and markets being shaky is now witnessed. "The primary explanation for this is uncertainty surrounding the continuation or not of economic policies that created primary surpluses and improved competitiveness".
Piraeus Bank Group chairman, Michalis Sallas, also touched upon the issue of how banks will help push the economy towards growth in an interview with "Real" newspaper. Referring to liquidity and financing of businesses, Sallas noted that Piraeus Bank has announced a first set of measures that are investment-intensive, in order to boost healthy and extrovert small and medium sized enterprises, as well as other dynamic sectors of the Greek economy.
Sallas also noted that "the road for the privatization of Greek banks opens ahead of us" adding, however, that it "is not the main goal to be achieved by our banking system. On the contrary, it is a prerequisite for the dynamic come back of the Greek economy, as it will add credibility to our adjustment program and it will mark the long-term trust of international investors and funds."