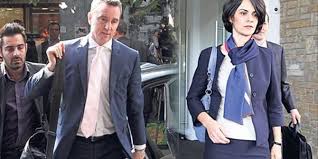 Athens, September 14, 2016/ Independent Balkan News Agency
By Zacharias Petrou
Bank of Greece Governor, Yannis Stournaras, met Tuesday with the country's international creditors.
Stournaras reportedly stressed that Greece needs privatizations, reforms and foreign investment in order for the economy to return to growth. However, he also stressed the need for primary surplus targets to be revised downwards.
The Bank of Greece foresees that the Greek economy will grow by 2.5 percent in 2017 and that recession will stand at 0.3 percent this year. On the primary surplus, the BoG estimates that it will reach 0.8 percent of GDP this year, with the target agreed with creditors being at 0.5 percent.
Referring to investment, the BoG chief he said it is a crucial factor that can boost the economy, but first "there are many issues, such as land-use permits, that need to be solved".
Stathakis
Meanwhile, Economy Minister Giorgos Stathakis who also met with the "quartet" of mission chiefs on Tuesday, said he expects the ongoing review of the Greek bailout program to be completed by the end of September.
Stathakis estimated that the 2.8 billion euros tranche will be disbursed in the first two weeks of October.
He also stressed that the Greek economy is at a turning point.
According to Stathakis the Greek economy is expected to grow by 2.7% on a 12month basis, from June 2016 to June 2017.
"There was a 0.2 percent increase during the second quarter and the third quarter is also expected to be upward. The fourth quarter is critical and if it is positive, given that three consecutive quarters are positive, it will mark Greek economy's return to growth".
Talks
So far, the meetings between Greek government officials and European mission chiefs on focused on:
the operation of a new privatisation fund which is to speed up the sale of state assets
actions needed to tackle political corruption
According to reports, there was disagreement on the candidates proposed by the Greek government to run the new privatization fund. The Greek side also rejected a Spanish official put forth by the creditors.
The two sides also discussed the State-run companies and entities that will be transferred to the new privatization fund. It is reported that the two sides disagree over the stakes that should be sold (i.e. in EYATH, the Thessaloniki Water Supply & Sewerage SA).