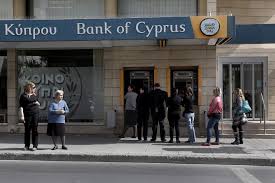 By Christos Meliopoulos – Nicosia
Some of the first of the long awaited decisions on the future of the Bank of Cyprus, the bank recently described by President Anastasiades as "mega-systemic" for the island country, have been reached. IBNA sources say that the IMF member of the troika team that arrived in Cyprus for the first assessment of the memorandum implementation progress was very strict in asking for a quick resolution of the four-month impasse. Delia Velculescu, backed by her European Commission and European Central Bank partners, is said to have commented that the uncertainty over the bank acts like a weight restricting the Cypriot economy.
The Cypriot administration recognises this fact, but any decision on the BoC would need to have the backing of the troika. So, the decision is for the bank to exit the consolidation process at the end of the month, by which time the KPMG asset assessment for the Bank of Cyprus will hopefully have been completed. The haircut on the deposits concerned looks like it will be set at around 47%.
The details of the final decisions will doubtlessly be carefully examined once everything is finalised. But another decision is of the utmost importance, agree politicians and commentators: raising the capital controls, something that will be done after the BoC case is closed.
A bank official has told IBNA that depositors, even theoretically protected ones, live in constant fear as long as uncertainty reigns. People that do not necessarily hold huge amounts of money in their Bank of Cyprus account try every possible way the controls allow them to remove money and transfer them to other banks, hold them "under the mattress" or send them abroad to foreign banks' accounts, especially in the UK. IBNA understands that parents split their money among all the accounts of children and other relatives in order to make the fullest use possible of the provision to withdraw up to €5,000 a month.
The problem is that contrary to the aim of the capital restrictions, Cypriot and other depositors will do whatever possible in order to protect their money against the unknown by emptying their Bank of Cyprus accounts. Following the 25th March Eurogroup shocking decisions, something like €8bn have left banks in Cyprus in total.
Giving a final and firm decision on the Bank of Cyprus deposits will mean that account holders know what will happen to their money. As Marios Mavrides MP said, they can then decide if they want to withdraw their money or keep them in; and the banking sector can reboot and start functioning the way it supposed to, with the money available, lifting a big burden from Cyprus's shoulders.