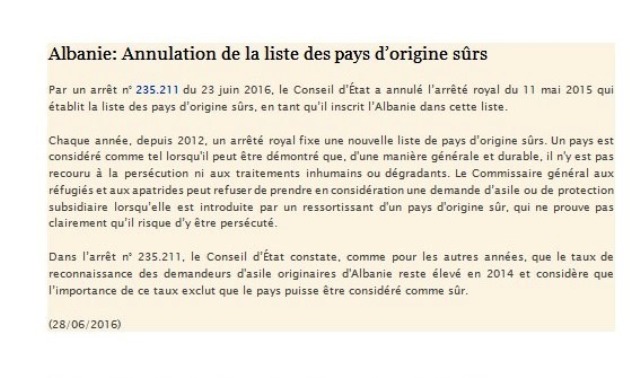 Tirana, 4 July 2016/Independent Balkan News Agency
By Edison Kurani
Belgium becomes the first EU member country which lifts Albania from the list of safe countries.
At the peak of the holiday season and ahead of the discussions for the launch of talks for Albania, Belgium has taken a decision which strikes Albania.
The decision has been taken by the State Supreme Council and the reason for this relates to the growth of the number of asylum seekers from Albania.
"The level of asylum demands from Albania remains high. The State Supreme Council concludes that the importance of this level rules out the possibility that this country may be considered safe", the official statement argues.
The statement continues by saying that "a country is considered safe when it can be proven on a general and sustainable basis that there is no persecution or inhuman treatments in that country".
Fight against crime and traffic led to the fact that in 2012, Belgium inserted Albania in the list of safe countries. This important decision accompanied the decision to lift the visa regime for Albanian citizens in the Schengen countries.
However, Belgium's decision can be seen as good news for many Albanians who have sought asylum or want to do such thing in the future. They can be encouraged by this and attempt to seek asylum which is aimed by many Albanians from Albania, Kosovo and FYROM.
Meanwhile, the opposition in the country sees Belgium's decision as a big blow.
Secretary General of the Democratic Party, former minister of Interior, Arben Ristani says that for three years, under Edi Rama's leadership, security standards have dropped to zero and that more facilities have been given to crime, drugs, gun trafficking and masked robberies.
"No EU country can accept as being safe a country where the Prime Minister replaces law with the rule of gangs, where crime has power and the government is criminalized.  No EU country can accept as being safe a country where drug traffickers, pimps and rapists, become MPs, mayors and senior heads of administration and state police", the democrat MP suggests.
The former head of the Central Election Commission warns that the fact that Albania has been removed from the list of safe countries, may punish Albanian citizens, "it can set in motion the mechanism for the reintroduction of visas and all of this as a result of Edi Rama and his terrible criminal links".
"The removal of Albania from the list of safe countries is a dramatic decision, as it can restore the visa regime and this is alarming, as it could also have an impact on other EU member countries", Ristani says.
He says that this decision becomes even more serious due to the fact the list of safe countries include all the countries of the region, Serbia, Bosnia, Montenegro, FYROM, thus, Albania is the only one excluded. /balkaneu.com/