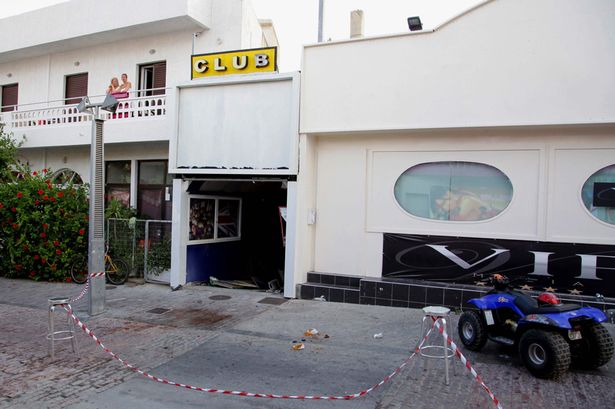 By Christos T. Panagopoulos
A 19-year-old man from Britain, who is accused for murdering an 18-year-old compatriot of his on Tuesday evening in the Cretan village of Malia, was conducted to the District Attorney's Office in Heraklion yesterday, along with 18 more young individuals, who participated in this bloody quarrel.
According to Neatv.gr, the conclusions of the forensics examinations on the corpse of young Matthews, who was stabbed to death, are shocking: "the victim was stabbed by two different individuals, after having beaten very badly", stated Forensics Professor, Manolis Mihalodimitrakis.
The 19-year-old faces the charge of manslaughter with intention. He pleaded innocent, claiming that it was not him who stabbed young Matthew.
The grim image presented in the village of Malia is, unfortunately, a common phenomenon. At night, dozens of young tourists, especially British, get drunk and are involved in fights, which may lead to bloody incidents, as the one happened on Tuesday. The General Hospital of Heraklion, reports in a daily basis many incidents of young people ending up at First Aid with excessive alcohol consumption at semi-caumatose situation.
According to Greek Media, the citizens in Malia are deeply concerned, clearing that their village cannot continue to tolerate such disgraceful acts, while local authorities insist referring to Tuesday's bloody fight as an "isolated incident". Moreover, they put the blame on travel agencies in both Great Britain and Greece, as they promote "a totally negative image of Malia, which does not respond to reality, and gives the impression to young tourists that they can come to Malia and do whatever they want", as Mayor of Hersonissos, Zaharias Doxastakis, said on Wednesday speaking to the "New Crete" newspaper.
As the same source mentioned, Doxastakis claimed also that in spite of his efforts to uphold the law, he had been threatened many times in the past by unknown individuals not to continue with his actions.
Almost a week ago, the British newspaper "Daily Mail" published an article about the British tourists' behavior in countries such as Spain and Greece, mentioning that the British Embassy in Athens as well as the British Ministry of Foreign Affairs are putting a lot of effort to warn visitors in Greece, not to get involved in outrageous situations and to behave accordingly.
Sources: Neatv.gr, "New Crete" Newspaper