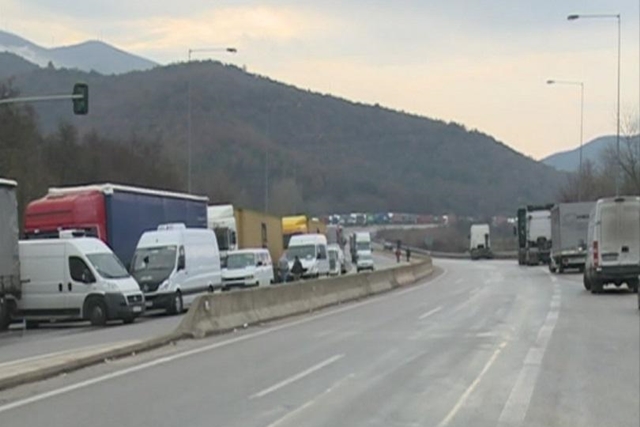 Traffic at Bulgarian border checkpoints including Kapitan Andreevo and Lesovo was blocked for two hours by protesting lorry transport drivers on October 31, with drivers threatening further protests because their dissatisfaction at continuing problems crossing the country's borders.
The blockade on October 31 was staged from 10am until noon. Normal traffic was restored after that, the Interior Ministry said.
At Kulata border checkpoint, more than 50 drivers of heavy lorries formed a human chain at the frontier. Cars could not move in either direction, leading to large queues forming in both directions, towards Bulgaria and Greece.
Bulgarian National Radio said that all industry organisations took part in the national protest by hauliers.
The union of Bulgarian transport workers said that several letters requesting improvement to the management of Bulgarian borders had been sent to government ministries, as well as the holding of workshops on ideas to improve the situation, but no formal reply had been received.
The union's Alexander Stamboliiski said that the proposals put forward, to stabilise the management of passenger traffic, had "in no way" been considered.
He said that the October 31 protest was a warning about what would happen in a month if no long-term measures were taken. "There will be more protests," Stamboliiski said.
The Bulgarian carriers said that their protest could not be compared with the protest by Greek farmers in February 2016, because unlike that protest, the Bulgarian protest's date and time had been announced in advance and was intended to provoke institutions into dialogue and the finding of a solution to the perennial problems of Bulgarian drivers.
Participants in the protest at the Romanian border, at the Bulgarian Danubian city of Rousse, told reporters: "How do you think it is right to wait seven hours each way to cross the border, and seven hours to wait in the other direction? Is this normal? To go to work, to wait seven hours…that's not normal." They also threatened "tougher measures" unless steps were taken.
The protesters demanded reorganisation of work at border posts and the recruitment of additional staff to deal with cargo documentation.
At the Kapitan Andreevo checkpoint, at the Turkish border, lorry drivers said that repeatedly there were long queues. One said that he had spent 23 hours at the border on October 22, when there was a queue of lorries nine km long.
Dealing with the documents on the Turkish side was much better, a matter of two or three minutes, but on the Bulgarian side it could take up to 40 minutes. Drivers said that young people should be appointed "who are up to date with computer techniques so that they are able to do their job".
Transport Minister Ivaylo Moskovski said that Bulgarian institutions are not the reason for the slow border crossings. He said that a few weeks ago there was a meeting of carriers with Border Police and Customs Agency, and was aware that there was a problem./IBNA