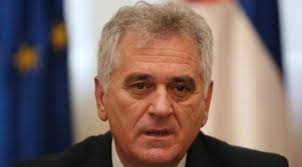 By Milos Mitrovic – Belgrade
Serbian president Tomislav Nikolic said today that "Blic" daily constantly strives – from the reasons "unknown" by him – to impair both his reputation and that of "the president institution". Nikolic said that "Blic" account that has suggested that his adviser Predrag Mikic had insisted Privatization agency to enable his son Zarko to "purchase urgently" state-owned company was "media incident". He added that "ownership structure" of "Blic" might be the reason for such reporting.
"Blic" is owned by Ringier Axel Springer company.
" "Blic" has had 35 front pages directed against me in presidential campaign, and they didn't stop (with such reports) so far. The journalist probably aren't aware on causes for such approach, neither am I. Are the editors aware that they are trying to diminish my reputation among Serbian citizens, the reputation of the President of the Republic? Yes, I am Tomislav Nikolic, but people wanted me for the president. Maybe this is connected with ownership structure in this daily", Nikolic said.
President's Service for cooperation with media also reacted by media release saying that "campaign of spreading lies against the President of the Republic and his associates is being continued without consequences". At the same time, this agency appealed for misuse of the state institutions such is Privatization Agency to be ended.
"Blic" published the text under headline "Nikolic's adviser blackmailed director" claiming that Privatization agency head Vida Uzelac has sued Predrag Mikic because he had allegedly demanded illegal advantage in order to purchase majority stake in state owned company "Radnicko prihvatiliste" in Belgrade.
Nikolic's Service for cooperation with media underlined that the text was "another in series of negative articles in "Blic" and "Alo" newspapers aimed to publicly discredit president and his associates". The agency claims there have been 350 such texts. "The motive for the campaign is to undermine political system, prevent the foundation of the rule of law as well as the continuation of struggle against criminal and corruption".