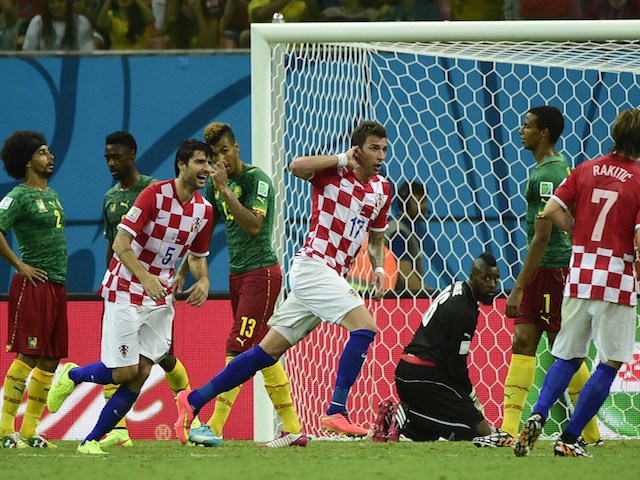 By Marija Avramovic – Zagreb
Late last night Croatia played an amazing game against Cameroon and Niko Kovacevic's boys celebrated with the impressive 4:0 writing a new page in the history of Croatian football.
Mario Mandzukic with his two goals in one match became the first Croatian national team member who was able to achieve this at a World Championship. Thus, Croatian team continues the tradition of never loosing the second game in a World Championship.
Media worldwide enthusiastically report on the game and victory of the Croatian national team against Cameroon in the second Group A match of the World Cup.
Italian daily Marca writes "Croatia has destroyed Cameroon who offered a very sad picture. So sad that, at the end of game, Cameroonians, who for 50 minutes had one player less, fought with each other."
Reuters news agency points out that Ivica Olic, who scored the leading goal, with 34 years and 277 days became the oldest Croatian player who scores at a World Cup.
German Bild proudly points out that the Bundesliga Croats destroyed the Cameroon since all three shooters Olic, Mandzukic and Perisic play in the German league.
"Olic, it seems, doesn't get old. He bit into Cameroon with his 19th goal in the national team before the Africans were destroyed by Perisic and Mandzukic," writes the Guardian and states that Mandzukic, who is leaving Bayern, will be on high demand this summer.
Croatian Jutarnji daily writes that the fact that Samuel Eto'o for some reason was not in the starting lineup of Cameroon certainly rose the confidence and after Croatia took the lead in the 11th minute additional problems for Cameroon occurred in the 40th minute when Song's got a red card and left the game.
Against Mexico Croatia will have to play to win, without calculation and unnecessary theorizing "because they are much faster, more aggressive and more disciplined", Jutarnji stressed.