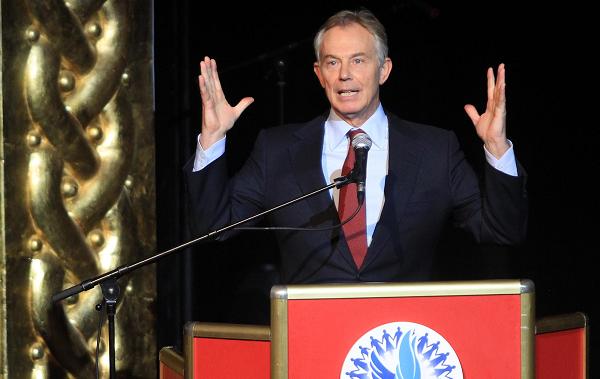 Skopje, October 3, 2013
The future belongs to them who see it with an open mind and the path toward peace and prosperity is only achieved if we work in partnership with each other.
This was stressed last evening by the former British Prime Minister, Tony Blair during his speech in Skopje in the "Peace Summit" in the framework of the First Peace Festival in the Balkan hosted by Sahara Group of the Indian businessman, Subrata Roj.
Blair said that in this world, there's a difference between those who have an open mind and those who don't, between those who see the world lead by opportunities and those who see globalization as a threat. "I'm optimistic and I believe that we can find the strength to overcome the challenges", underlined Blair, by congratulating the hosts of this festival.
Blair said that there was not a better day to celebrate the idea of an open mind than today.
"FYR Macedonia is an important country where this sentiment is expressed very freely here. Western Balkan has had many conflicts and difficulties in the past and people become cynical and pessimistic as to how achievable progress is. But, think of the past and notice how much better today is and than think about how better will the future be. This feast of peace is not only a feast of emotions, but it's also a feast of the strength of humanity to use reason in order to overcome problems and move forward", said former British PM, Tony Blair.
Today, former PM Tony Blair met with Prime Minister Nikola Gruevski and president George Ivanov, where he discussed the current developments and Euro integrating process of the country. These meetings have been accompanied by the message for tolerance and collaboration between people in order to settle conflicts in a peaceful way. /ibna/