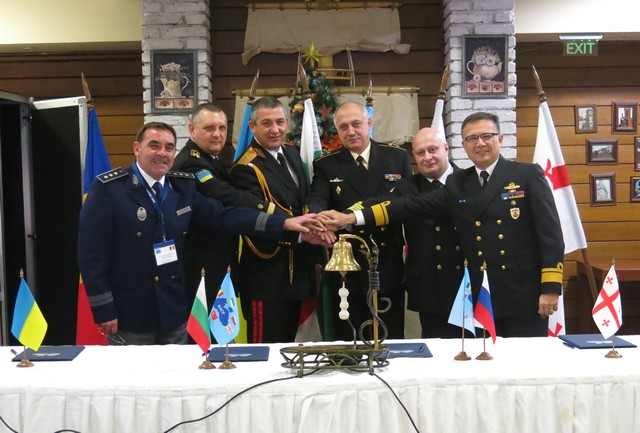 The heads of border guard and coast guard services of Black Sea countries have signed a memorandum of co-operation and agreed on holding a joint exercise in July 2017 under Bulgaria's leadership, the Interior Ministry in Sofia said on December 1.
The memorandum was signed by the head of Bulgaria's Border Police chief directorate, Georgia's Border Police, Romania's general inspectorate of Border Police, Russia's border security service at the Federal Security Service, the commander of the Turkish coast guard and the Ukrainian administration of the state service for border security, the Bulgarian statement said.
Arising from the document, a modernised version of an automated system of exchange of information will be introduced after each of the parties state that they are ready on a technical level.
The system was produced by Russia, which has given the other Black Sea countries technical guidance on dealing with the new platform.
During this past summer's Black Hawk 2016 exercise, staff at national border control centres were given the first opportunity to experience the "Black Sea Tornado – Manual Tracking Function" application of the Romanian prevention system for the early detection of illegal activities.
Romania will ensure the introduction of the new features of this system, based on the criteria for dealing with suspicious ships in the framework of Black Sea co-operation.
The work of the working group "Maritime security and safety of shipping in the Black Sea" was continuing, the statement said.
The parties agreed to increase the exchange of information on vessels of special interest (small boats, yachts, fishing boats, etc.), to exchange information on the arrival and departure of such vessels and ports, and to to continue the process of analyzing vessels set out in the "list of suspected ships," and timely provision of updated information to the Black Sea Border Coordination and Information Centre in the Bulgarian Black Sea port of Bourgas.
The participants agreed on the form of the next exercise "Black Hawk 2017", to be held in July 2017 under the leadership of Bulgaria, as the country holding the Presidency of the Black Sea Cooperation Forum in 2017, the Interior Ministry said./IBNA