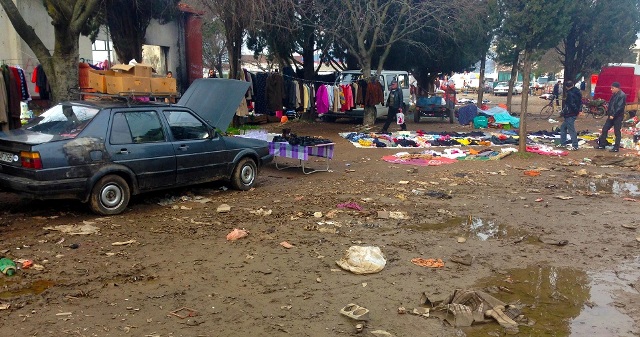 IBNA Special Report
Skopje, December 4, 2014/Independent Balkan News Agency
By Naser Pajaziti
Black economy continues to dominate the market in FYROM, although state authorities claim that they're fighting it. Based on an analysis published this week by the Center for Studies and Drafting of Policies in Skopje, black economy in FYROM consists of 47% of the GDP. Analyses also indicate that black economy generates over 2 billion Euros a year.
Emil Surkov from the Center for Studies and Drafting Policies told IBNA that the country has a high level of informal recruitment, but according to him, the state also has the wrong strategy to prevent this form of illegal business.
"Black economy is present in industry, hotels, textile industry, cosmetic services, etc. Data from the State Authority of Statistics show a dropping tendency of this phenomenon during the last six years, but nevertheless, the overall figures of informal economy remain high compared to the countries of the region, almost half of GDP", declared Surkov. According to him, the state is applying the wrong approach toward black economy. "Those who are into these activities must be trained and stimulated and not be fined or be subject to other forms, which have resulted unsuccessful", declared Surkov.
Ruslan Stefanov from the Center for Democratic Studies from Bulgaria, who has assisted in the analysis carried out in FYROM, says that the state must be transparent and built mutual trust with the citizen and support small businesses.
"In general, Macedonia has a higher level of the average of informal economy in Southeast Europe, but in relation to its neighboring countries such as Bulgaria, Serbia or Albania, it's on the same level. There are some differences in structure. In western countries, black labor is mainly offered to emigrants, while in Macedonia, this phenomenon is spread in different sectors. The legal system must focus on big businesses, where there's a lack of transparency about revenues", declared Stafanov.
According to economy experts, informal economy is expected to grow even further, as the law which charges double taxes for those citizens who work on an honorary basis, will decrease the faith of the citizens on the state even more.
Ministry of Economy, Labor and Social Policies in FYROM has presented a while ago the action plan for the fight against black economy, which dominates in industry and tourism and not only in ambulant vendors in the streets of the country.
Ministry of Labor and Social Policies has drafted a bill to prevent informal economy.
"It's a law that prevents illegal businesses and important institutions have offered their contribution in drafting this bill. A similar model is being implemented in Croatia and Slovenia. We believe that by adopting new mechanisms, there will be a more efficient fight for the prevention of illegal businesses and on the other hand, workers' rights will improve", said the minister of Labor and Social Policies, Dime Spasov.
Citizens say that they're forced to sell on the street in order to earn their bread. This is also admitted by Ilaz A, an ambulant vendor in Bit Pazar, Skopje. He says that his business is informal and that he cannot afford to formalize this activity.
"I am obliged to work like this, because I cannot afford to pay health and retirement contributions if I register this business. My profits are minimal and symbolic. I can only survive on them and save nothing. I don't know how much further we will go on like this, but I hope that things will change. The state is not helping us and we're obliged to work like this", says Ilaz A. /ibna/