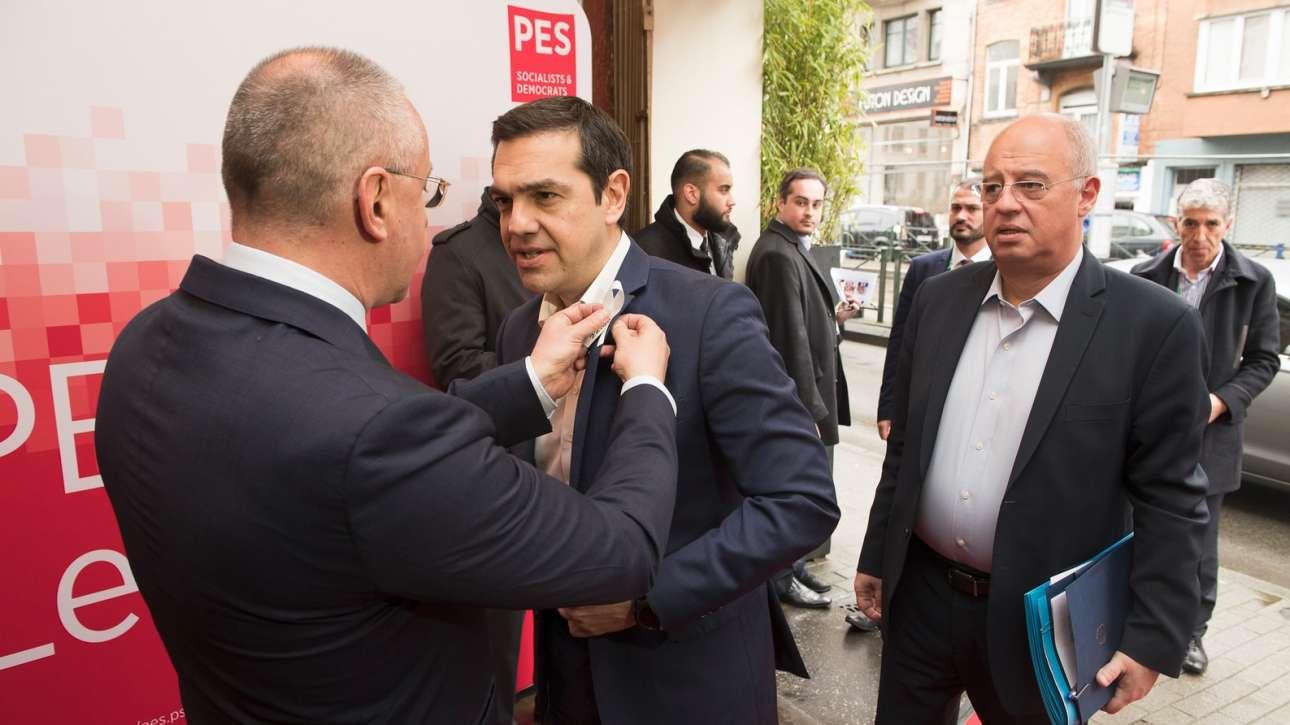 Na početku svog izlaganja u Vladi, Aleksis Cipras je pozdravio dvojicu novih ministara iz PASOK-a, jasno stavljajući do znanja da će u narednom periodu biti pojačane inicijative za široki politički savez stranaka levice, levog centra, ekologa i takozvanog socijalnog desnog centra.
Odluku da se preuzme vodstvo u ovom procesu, grčki premijer i predsednik SIRIZE  uzeo je zdravo za gotovo, čak i ako pojedinačni izbori, kao što su dva ministra, izazivaju nesuglasice i prigovore unutar njegove stranke.
Istovremeno, ovi potezi su, između ostalog, usmereni kao pritisk prema KINAL partiji Fofi Gennimate, sa izborne i političke tačke gledišta.
Po oceni funkcionera koji su uključeni u političko planiranje vlade, Alekis Cipras ovom strategijom može postati lider u širem području levog centra takozvane "progresivne pripadnosti" u Grčkoj.
Unutrašnje pukotine u KINAL-u zbog zajedničkog prisustva Tsipras-Bullmanna
Štaviše, sav fokus je posvećen događaju koji je organizovala Grupa naprednog saveza socijalista i demokrata Evropskog parlamenta koji će se održati 4. marta u Atini. Šef evropskih socijalista, Udo Bulman, grčki premijer Cipras, poslanik SIRIZE D. Papadimulis, bivša ministrica PASOK-a Louka Katselis, koja se nalazi na listi SIRIZE za evropske izbore, član stranke To Potami i predsednik DIMAR-a, Thanasis Theoharopoulos, biće prisutni dok je, prema informacijama, pozvan i šef Zelenih, Ska Keller.
Međutim, predsednik KINAL-a Fofi Gennimata vratio je pozivnicu i čak stavio embargo partijskim rukovodiocima, uključujući bivšeg predsednika i premijera Georgea Papandreoua, čije je učešće još uvek "otvoreno". Prisustvo Alekisa Cipras je crvena linija za KINAL.
Zaista, prema informacijama, gospodin Gennimata zatražio je od poslanika Eve Kaili da interveniše kod Uda Bulmana, koji je, međutim, navodno ponovio svoj poziv KINAL-u, naglašavajući da bi trebao prisustvovati jer je član Evrogrupe demokrata i socijalista.
Izazovi za Tsipras i Gennimata
U narednom periodu, imajući kao prvu stanicu evropske izbore, ako ne bude vanrednih događaja u nacionalnim anketama, očekuje se da će bitka za oblast lijevog centra biti jaka. Kako vladini funkcioneri otkrivaju, pitanje je dana kada će biti objavljena ostala imena iz levog centra koja će podržati napredni politički stub. To je dinamika koja je ojačana nakon Prespanskog sporazuma.
U tom kontekstu, Fofi Gennimata poslao je jasnu poruku rukovodiocima KINAL-a: "Ko god želi da ode, mora to učiniti sada". Ostaje da se vidi da li će doći do daljnjeg curenja članova iz partije i da li će to ugroziti njihovo parlamentarno prisustvo na narednim izborima.
U isto vreme, međutim, Alekis Tsipras će morati da izađe na kraj i izbalansira glasove iz unutrašnjosti SIRIZE, koji upozoravaju da je SIRIZA imitacija PASOK, partije koja menja karakteristike partije levog krila./IBNA