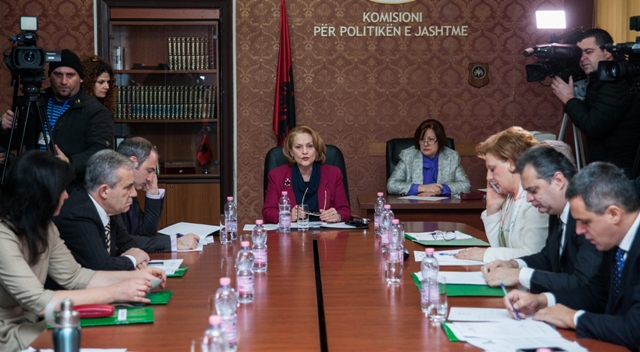 Tirana, March 12, 2015/Independent Balkan News Agency
The socialist majority has been involved in a debate in relation to the new bill on diplomatic service, sent by the government for approval in parliament.
Foreign Minister, Ditmir Bushati says that this bill defines the legal basis for the regulation of the foreign service activity in the Republic of Albania. "The regulation of the activity of foreign service doesn't only have to do with the Constitution, but also with international convention", Bushati says.
But, Socialist Party MPs are rejecting several points of this bill, especially the one for ambassadors who can be appointed without a career in diplomacy.
The Prime Minister and Foreign Minister propose that there should be no division lines for the ambassadors, between those who come from diplomacy and those who come from outside of the system or politics.
Meanwhile, left wing MPs think differently. The head of the Foreign Committee, Arta Dade and the majority of the members of this committee are against the prime minister, demanding for at least 80% of ambassadors to come from the diplomatic service.
Dade said that the government had not accepted the parliament's proposal. "The version of the Parliamentary Foreign Affairs Committee is not accepted and PM Rama is not taking into consideration any of our proposals. We were also ready to accept 70 with 30% in favor of the diplomatic service and diplomatic career, but even this was not accepted by the PM of the country", said Mrs. Dade, former Foreign minister several years ago.
Mrs. Dade said that caution must be shown in the case of diplomatic service: "We must put diplomacy above party interests. On this point, I personally cannot agree and I cannot step on the principles that have guided me during all these years in foreign policy and diplomacy", said Arta Dade, chairwoman of the foreign parliamentary committee.
The opponent MP within the DP, Ben Blushi, is also critical about the government plan for the appointment of ambassadors. "This will make all ambassadors of the Republic of Albania to be politically appointed and within the diplomatic service. The head of the committee is right , but this committee must be given the right of veto", Mr. Blushi said.
After the debates in the committee, the request of the government was not approved. However, this issue will be decided by another meeting of the committee.
MP Dade says that if the government doesn't withdraw, the law may be rejected in plenary session. "I hope that we will be convinced about this formulation. If this doesn't happen, then the parliamentary session will be the one to vote it. Of course, we will not demonstrate who is stronger, because it's a known fact that the government has a greater responsibility in relation to the foreign service", said the head of foreign committee, Mrs. Dade. /ibna/