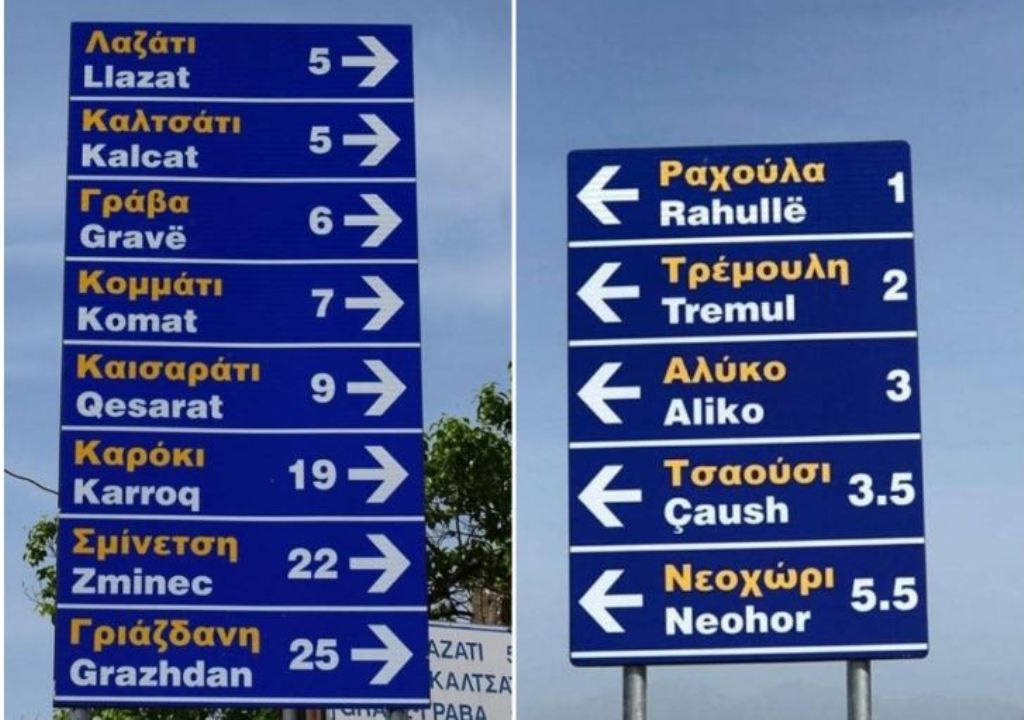 The bilingual road signs in southern areas of the Albania where the Greek minority lives, continue to dominate political debate in the country.
The leader of the Unity for Human Rights Party (PBDNJ), Vangjel Dule took an official stand on this issue today by criticizing the government's actions.
Mr. Dule condemned "the vandal act of removing bilingual road signs in the municipality of Finiq". For Mr. Dule, this act is "a violation of the rights of the Greek Ethnic Minority, which are guaranteed by the Frame Convention of the Council of Europe, the country's legislation and the European practices".
Mr. Dule also commented yesterday's declarations of the PM (read here):
"Prime Minister Rama said that the reasons that led to this unacceptable act were technical and vowed that road signs would be put up again. Even if we consider these declarations as sincere, there are some questions which require answers", Mr. Dule said by listing them:
1.Why were these road signs removed during the night under an atmosphere of terror and why waere police forces used during this operation?
2.Why was this act not preceded by institutional coordination between central government and local government?
3.Why hasn't Rama's government put up these road signs since October 2017 when the law was adopted?
4.Why hasn't the government approved the bylaws required to implement the Law on National Minorities and which were supposed to be voted by October 2017?
5.Why hasn't the government taken action against wrongdoers who have often damaged bilingual road signs in the road linking Kakavie to Gjirokastra? Why have they not been rehabilitated?"
Meanwhile, the leader of PBDNJ also denounced "the hate speech and calls for ethnic clashes which were publicly articulated in the past few days by individuals, groups and political parties". Dule has called on the prosecutor's office to investigate on this.
The leader of PBDNJ also addressed a request for the government: "We ask the government to change its policies which aim at respecting and defending the rights of minorities in compliance with the spirit and the letter of the fourth evaluation of the Council of Europe for Albania, which was published in March 2019, which was published in March 2019, by establishing the necessary implementing structures, by applying systematic projects for information and by informing public opinion on the rights of minorities.
Also read: Albania: PM Rama criticizes nationalist rhetoric concerning bilingual road signs