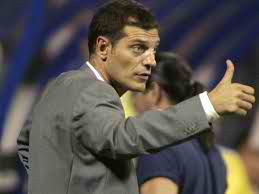 By Natasa Radic – Zagreb
One of most popular former coaches of the Croatian national football team, famous representative of the golden generation of Croatian football – Slaven Bilic, officially left Lokomotiv from Moscow.
Bilic took over the team a year ago, but not many football experts who coached the Muscovites can "boast" with so many bad accomplishments he has achieved at the head of the club: in the past 21 years in the Premier League in Russia,  Lokomotiv has never had such bad results.
Slaven Bilic took over the Moscow soccer club with great plans, but also the expectations of the public. It seems that he just had no luck.
This year Lokomotiv finished ninth in the Russian championship, which is the worst result since the collapse of the USSR. So at the end of May this year, Russian media reported that Bilic after the last game in which the club again suffered a debacle, gathered the players in the changing rooms and announced his own departure. This information was very soon denied from the clubs official leadership.
Moscow "Sport Express" a week ago announced that Bilic's stay in Russia now ended. The newspaper wrote that eventually the iron lady of the Lokomotiv, banker Olga Smorodskaja, turned her back on Bilic, even though she was the one that took him to Moscow. They announced that the decision was made: Slaven Bilic is at the exit gates, and Smorodskaja has managed to preserve her own position. They also speculated that the former Croatian football coach will leave the bench of Lokomotiv without compensation of six million euros that he was supposed to get in the event of cancellation of his engagement in the club.
Now it has been officially confirmed that the ninth place with even 11 losses in 30 rounds, was too much for the management of the club. They took Bilic because he was to correct what they considered unacceptably poor result – seventh place, where they finished the season before.
Before Sunday's training Slaven Bilic said goodbye to the players and left, and they subsequently the players were introduced to a new coach Leonid Kucuk, who had previously led the Kuban.