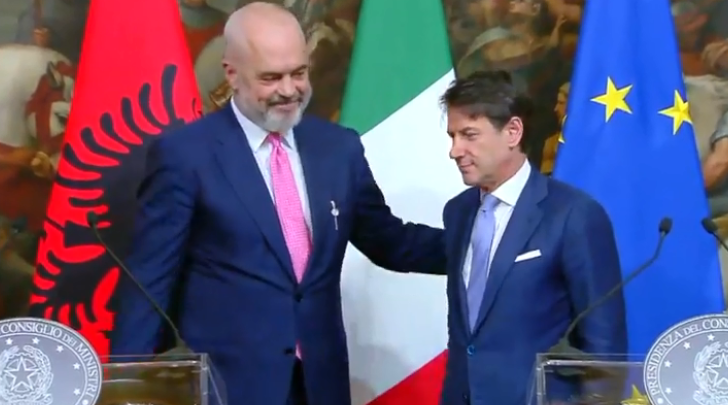 Albanian Prime Minister Edi Rama was on an official visit to Rome on Thursday, where he met with his Italian counterpart Giuseppe Conte.
At the meeting of the two men, which took place in a very good climate, bilateral issues were discussed, both for the deepening of economic cooperation between the two countries and for Albania's EU accession prospects.
Italian Prime Minister Giuseppe Conte said he is ready to reopen the issue of starting EU accession negotiations with Albania and North Macedonia at the next European Council. Italy is the country that strongly opposes the French veto and the exclusion of Albania and North Macedonia, taking the initiative to reopen the talks earlier than the May 2020 Zagreb Summit.
Referring to the situation in Albania, Conte said that the country must resolve the political and institutional crisis in order to pursue reforms and that when the Member States decide on the enlargement, Albania should have implemented all the prerequisites.
The Italian Prime Minister encouraged his Albanian counterpart to make a clear opening to the opposition in order to unblock the situation that is preventing the country from pursuing the reforms that have begun, in particular electoral law reforms. He made the same suggestion to the opposition to embrace this opening in a constructive and unconditional way.
On bilateral issues, Giuseppe Conte said that there was agreement on Albanian prisoners serving their sentences in Italy and they will be transferred to Albania, while he will examine Edi Rama's proposal to recognize the social security and pension rights of thousands of Albanians who live and work in Italy./ibna