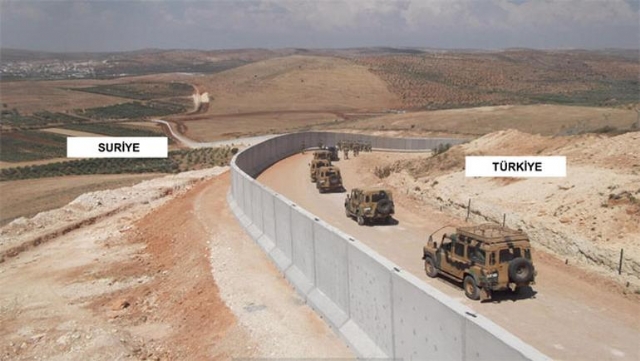 Ankara, December 9, 2015/Independent Balkan News Agency
Turkey is building a wall and is digging ditches at the border with Syria
By Manolis Kostidis
Bilal Erdogan refutes the information that he is related to the oil trade of the Islamic State. The 35 year-old son of the Turkish president in an interview with Italian newspaper Corriere della Sera says he "has no activity on the transport of oil. The Islamic State is an enemy of my country. They do not represent Islam".
He says his company builds BMZ offices in Istanbul and shipbuilds riverboats for a russian company. "We are not exploiting anything nor have we any activity in the Mediterranean, Syria and Iraq". Bilal Erdogan says his brother Burak has a ship but it does not have oil transport capacity. The Turkish newspaper headlines Sözcü with front page publications has argued that Burak Erdogan has 6 ships.
However, to a question on the turkish refinery in the town of Batman, which Russians accuse that oil has been transported from the Islamic State, Bilal Erdogan throws responsibilities to its private owners. "This refinery is owned by Koç family, ask them". The "Koc" Group is one of the largest in Turkey, owns car industries, refrigerator manufacturing plants, refineries, and after the events of Gezi, Erdogan and the pro-government press has often targeted their owners. They have been accused of acting against turkish interests and that they aim to overthrow the government.
In relation to the financial standing of his family, he stresses that he "has no bank accounts in Switzerland" and that he "owns the company Bmz, along with his two uncles, as well as five restaurants in Istanbul.
Bilal Erdogan claims that he has moved to Bologna to complete his doctorate degree.
Turkey is raising a wall at the border with Syria
The Turkish armed forces have published photos of the measures they are taking on the border with Syria. They are erecting a wall at about 100 km of the 913km-long border line, they are digging trenches and are erecting a barbed wire to block the flow of refugees, terrorists and prevent smuggling.
At the same time, they have revealed underground networks with pipelines, with which smugglers were transporting oil in Turkey. All there revelations see the light of day after the US pressure for greater action by Turkey against the jihadists.
No more soldiers to be sent to Iraq
After the strong opposition of Baghdad, the Turkish government announced that it won't "back down from Mosul", but it stops the strengthening of forces in the region. According to the Turkish press, Turkey was planning to send 1400 more soldiers to add to the 600 already in the region.
Moscow reacted to the sending of Turkish forces, describing the actions as "illegal".