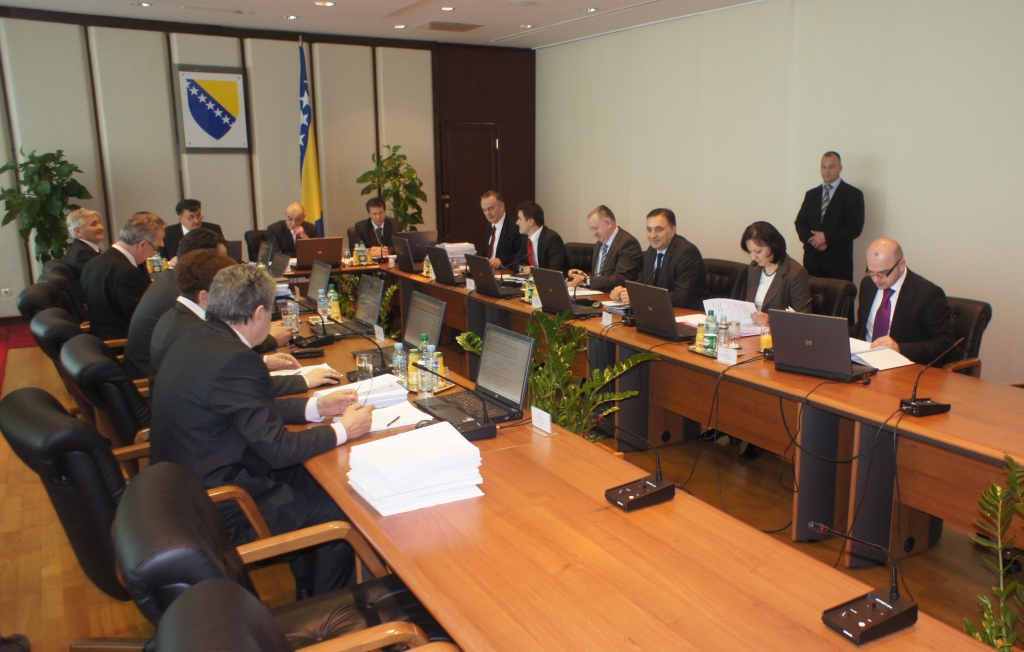 Sarajevo, June 3, 2015/ Independent Balkan News Agency
By Mladen Dragojlovic
A short while after party leaders in BiH reiterated that they will do anything necessary to bring BiH closer to the EU, the first disputes occurred on the most important topic of the coordination mechanism.
EU representatives, who lately have been coming more often in BiH, emphasize in all their speeches that the EU wants to have one address for the negotiations and that address must be defined through the coordination mechanism. It, in fact, would determine who and on which level of power will be entitled to talk with EU and to have the support of the whole BiH in these talks. The BiH Council of Ministers (photo) seriously begun the preparations and, on Tuesday, appointed a commission which have the task to make an initial document on the coordination mechanism, in order to distribute it to relevant institutions for discussion.
As usual, in BiH there is one "but" in this appointment. The reaction on it came very fast and was very sharp. RS PM Zeljka Cvijanovic, told the media that the Council of Ministers cannot appoint a team to make a document that will represent a draft of coordination mechanism, and appoint representatives from RS Government  without consultations with the government. As she said, the appointment must be confirmed by the RS government.
"They must learn that RS is a party to the negotiations and talks, and that we are functioning in keeping with determined procedures, and not that they 'generously' offer us 'a whole seat' in some team tasked with drafting a document, without asking us anything about it. If some government level intends to form a joint task force, then it should first consult the RS government, determine a number of participants of each side through these consultations and define principles on which the operations of the task force will be based", Cvijanovic said.
She also insisted that, in order to make a new proposal regarding the coordination mechanism, the Council of Ministers must first reject the old proposal, which was the result of a year of negotiations on all government levels. Cvijanovic said that, in that case, the Council of Ministers must also explain what was wrong with the first proposal.
Just few days ago, on the meeting with the EU Special Representative in BiH, Lars – Gunnar Wigemark, Cvijanovic had emphasized that the coordination mechanism is very important and must define the actions of all levels of government. She also emphasized that procedures and actions for the development of strategic documents must be defined, in order to be able to withdraw funds from the EU on the basis of the new IPA II concept.
The move forward may occur in June 11, when EU Commissioner for Neighbourhood and Enlargement Negotiations, Johannes Hahn, will visit Sarajevo. He will participate on round table where representatives of governments will discuss the program of reforms which BiH must implement on the way to the EU.