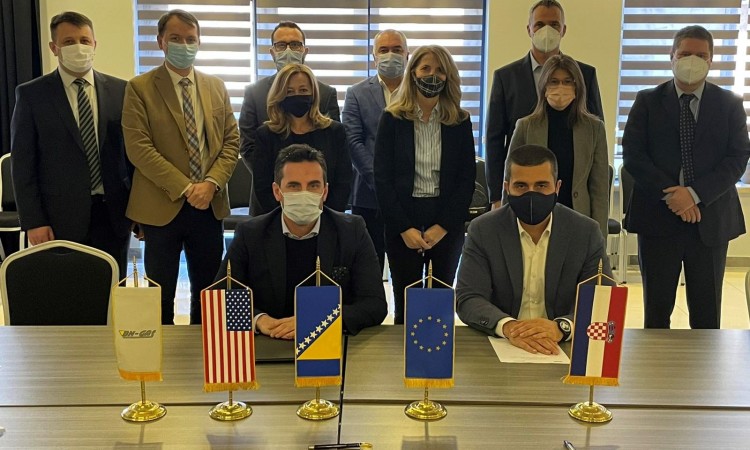 Plinacro and BH-Gas, the national operators of gas transport systems of the Croatia and the Federation of Bosnia and Herzegovina respectively, held a meeting today in Mostar on the continuation of their cooperation on the development of the South Interconnection project in the Dugopolje-Zagvozd-Imotski-Posušje-Tomislavgrad-Novi Travnik route and the branch to Mostar.
As Bosnia and Herzegovina currently has only one entrance to the gas transmission system, the South Interconnection project is of strategic importance for natural gas supply security as it allows for the diversification of supply routes and sources (through the LNG terminal on the island of Krk, the future Ionian-Adriatic gas pipeline which will supply gas from the Caspian region, and other supply routes that go through Croatia), and the further gasification of BiH, which will result in increased transit of natural gas through Croatia.
During the meeting, it was stressed that the realization of that project opens the possibility of a positive economic effect on the area along the entire route of the future gas pipeline. The development of the gas network is in line with the EU's "Green Deal" as it consequently results in a reduction of greenhouse gas emissions.
During the meeting, a Statement on the interconnection point of the main gas pipeline between the Croatian and BiH gas transport system was signed.
So far, Plinacro and BH-Gas have signed several letters of intent and a memorandum of understanding and cooperation, on the basis of which joint activities related to the development of interstate connecting gas pipelines between neighbouring countries are being carried out, according to a statement by BH-Gas. /ibna