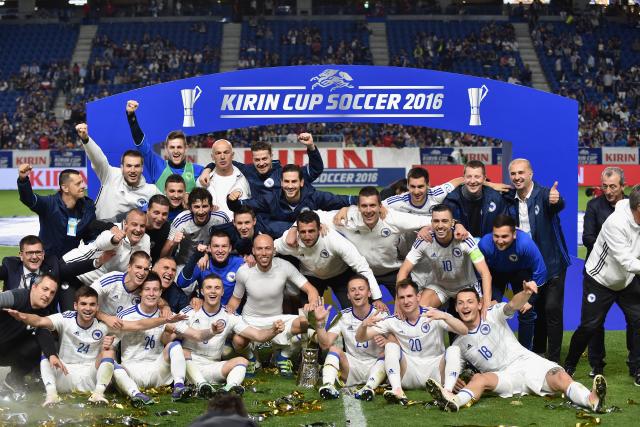 Sarajevo, June 7, 2016/Independent Balkan News Agency
By Mladen Dragojlovic
By winning the final game on Kirin cup in Japan, BiH national team in football also won the first trophy in its history.
The dramatic final game took place in Japan and BiH played against the host of the tournament, the national team of Japan. First several minutes of game show that the BiH players will try to win the tournament. But the first goal of the game came from Japan so BiH had to do a little miracle. The absolute hero of the game was player Milan Djuric, who scored two goals and brought the BiH team to first place. With four goals in the tournament, Djuric won the title of the best player in Kirin cup for this year.
What's interesting is that the two teams that played in the cup final are managed by BiH football experts. The head coach of the national team of Japan is Vahid Halilhodzic, while the head coach of BiH is Mehmed Bazdarevic. In fact, Halilhodzic was one of the most serious candidates for the position of BiH team main coach, but after the meeting with National football association leaders, he refused to take that position. Following that, Mehmed Bazdarevic took the position of head coach.
The whole path to the first position on this Cup was not easy for BiH players. Bazdarevic had problems with the team since he couldn't bring several first team players, with all other teams having more experience than his selected players. Japan, for example, won this cup 11 times and they were absolute favourites in Tuesday's game.
Many in the country were sceptic since Kirin Cup is the tournament of four national teams and has the status of friendly games, but the first place still means very much for the football of BiH. Former main coach, Safet Susic, said that it is important not to diminish the national team's success.
"Everybody expected that BiH national team to lose all the games of tournament, but Bazdarevic gave a chance to young players and they took it. Bazdarevic had the chance to see new, young players in hard games and now it will be easier for him to decide on the team for the qualifications of the World Championship", Susic explained.
He added that Milan Djuric is a good player and that Bazdarevic should count on him for the future.
The other two national teams of the tournament were Bulgaria and Denmark.