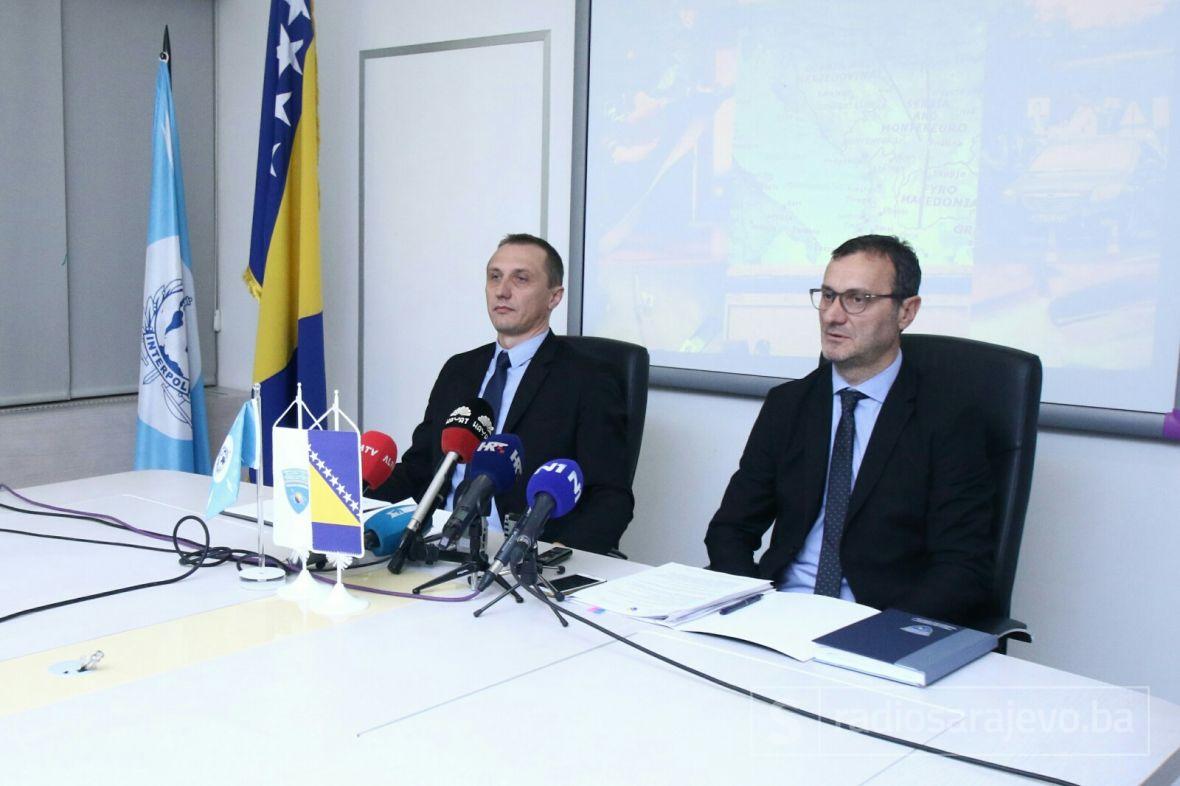 During the international operation codenamed "Balkan Trigger  II" police in several European countries seized more than 320 pieces of firearms, including grenade launchers and automatic weapons. Also, more than 19 000 pieces of ammunition and more than 50 different explosive devices were found and seized.
In the operation, which was realized from 6 to 8 April under the auspices of the General Secretariat of Interpol, were involved 23 countries of the European Union and the Western Balkans and 7 850 police officers performed actions on the field. These results were presented on Friday on a press conference in Sarajevo. The Assistant Director of the International Police Co-operation Department  within the Directorate for Coordination of Police Agencies in BiH (DKPTBiH), Samir Kavazovic, and Head of the Department NCB Interpol Sarajevo, Branislav Pavlovic commented on the results and significance of this operation. They emphasized that the goal of the action "Balkan Trigger II", which is a continuation of last year's operation under same codename, was to prevent and solve crimes related to the illegal trafficking of firearms and explosives, as well as offenses related to organized crime, including terrorism and narcotics trafficking. Pavlovic said to the media that weapons from BiH were found in various countries but he didn't want to confirm what was the possible purpose of this weapon. He added that the investigation is still ongoing and that it is necessary to define whether it was intended for terrorist acts or organized crime.
As part of this campaign, more than 470 planned operations were implemented, more than 170 000 people were checked. About 40 000 vehicles and more than 2 300 shipments were searched and  147 persons were deprived of their liberty. At the same time, police agencies found a significant quantity of drugs, especially marijuana, and 350 kilograms of the seeds of poppy.
According to the data presented on the press conference, police agencies in BiH found and seized 16 pieces of firearms,  24 grenades, 2 804 pieces of various ammunition, as well as certain amount of marijuana and cocaine.
During the implementation of planned activities in BiH, 42 operations were launched, and several of them was on international level. Nine persons are arrested, three of them on the basis of international arrest warrants. Data concerning BiH are still incomplete, since certain activities were undertaken and in the preoperative phase.
It was assessed that the police agencies of BiH demonstrated a high degree of professionalism and coordination, which refers to the Border Police of BiH and the RS Ministry of Interior, interior ministries in Tuzla and Zenica-Doboj Cantons, which are coordinated by the BiH Federal Police.
The operation "Balkan Trigger I", which was implemented last year, involved six countries of the Western Balkans, and was initiated by the NCB Interpol Sarajevo in cooperation with the Interpol General Secretariat in Lyon. This international operation later included a number of countries, and the results achieved in its second performance significantly exceeded the results of the operation from last year./IBNA